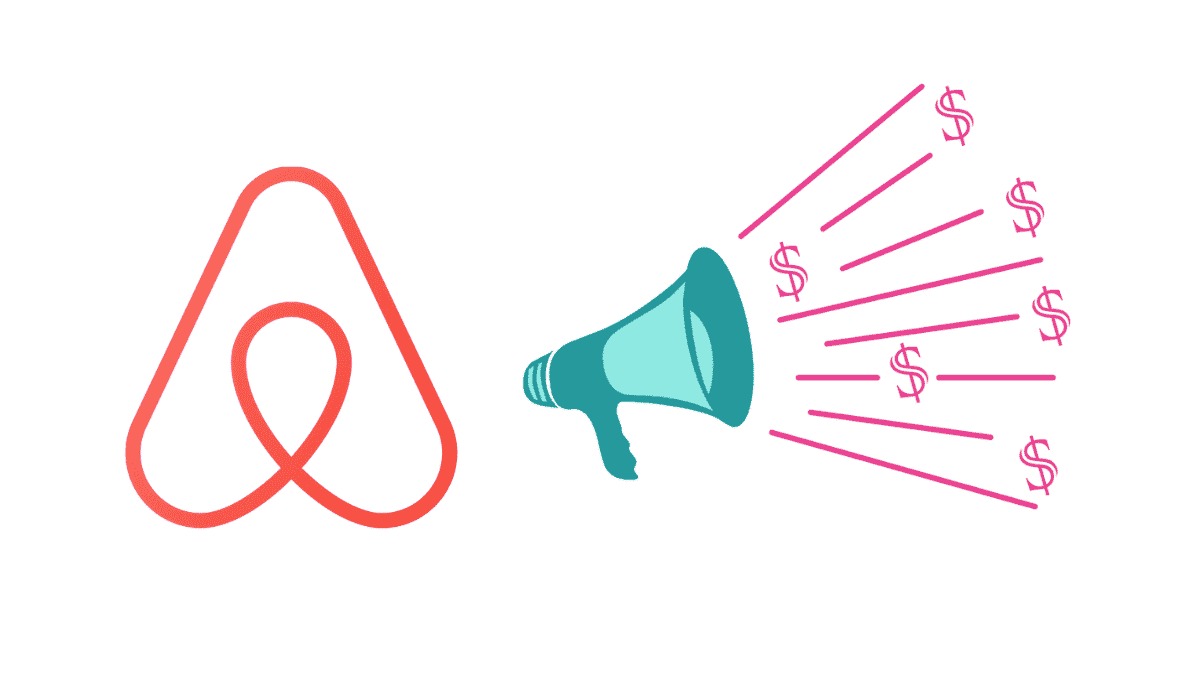 Update 15-March-2021: Airbnb's affiliate program — Airbnb Associates  —  closed in March 2021. There is no need to panic, though! 
Here is how you can keep earning on accommodation affiliate programs and travel affiliate marketing in general. 
Connect to multiple

hotel affiliate programs

such as

Booking.com

,

Hotels.com

, and

Agoda

. Their commissions vary between 4% and 6% of the booking price. 
Work with

Airbnb alternatives

, for example, Vrbo and Homestay. Commissions reach up to 5%.
Continue recommending the properties listed on Airbnb by working through Hotellook.com. It's a search engine for accommodation offers that aggregates options from the biggest websites  —   Booking.com, Agoda, other hotel directories, and Airbnb, too. The commissions average 5%. 
The downside of the options above is that they are time-consuming —  you will have to sign up for each program individually and figure out how each of them works. Getting payments will also be a pain. You will have to wait until you reach a minimum payout amount in each of those affiliate programs. 
But don't get discouraged just yet. There is a fourth option.
Join Travelpayouts affiliate network

. They brought all the affiliate programs I've mentioned above to one platform. In fact, they now offer more than 80 travel affiliate programs in niches such as accommodations, flights, car rentals, travel insurance (especially timely, I'd say).
The main benefit of joining Travelpayouts is convenience. You join all the programs you want from one platform. You see their commissions and terms presented in a clear and unified way. You use a multitude of affiliate tools to make the most of your traffic.
Here is the original article:

I have heard a lot of misconceptions and have seen people totally confused between Airbnb Affiliate & referral programs, these are two totally different things. Here are all the option to be an Airbnb affiliate or a referrer.
1. Airbnb Affiliate: Guest Referral Program
The Basics
What do they get?
$45 off on their first Airbnb home booking.
What do you get?
$30 travel credit when they complete their first stay.
Eligibility Criteria
They must click on your referral link to create an Airbnb account.
Their booking should not be more than 28 days long (long term stays are excluded from this program).
How To Get Your Airbnb Referral Link
Step 1: Once you have signed into your account, click on your profile picture on the top right corner to open the profile options menu and choose 'Invite Friends'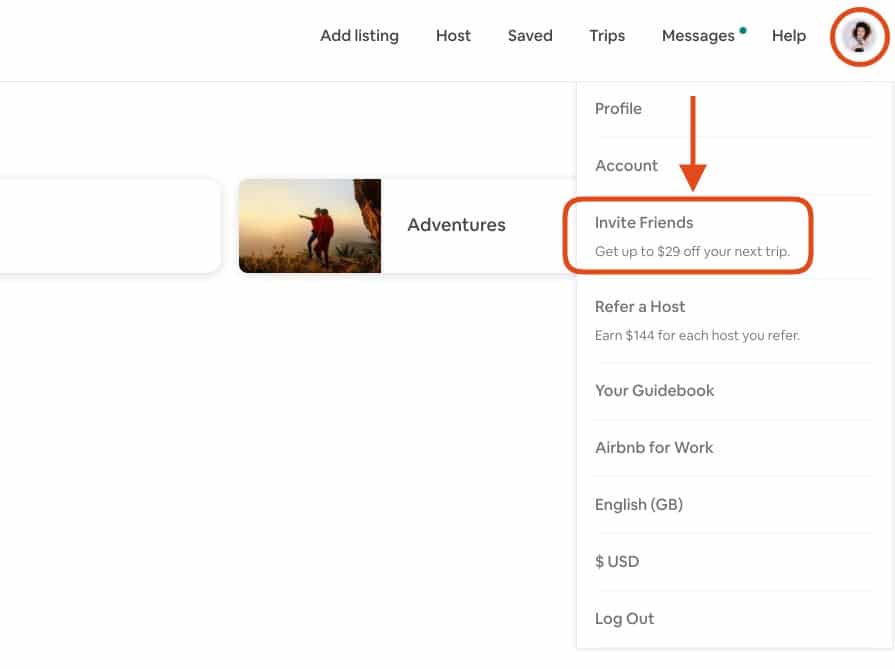 Step 2: The next screen gives you multiple options to share your Airbnb referral link.
Send email invites via Airbnb.
Copy your referral link and send it directly.
Send the invite using your email.
On the top right of the screen (4), you can see your travel credit scorecard.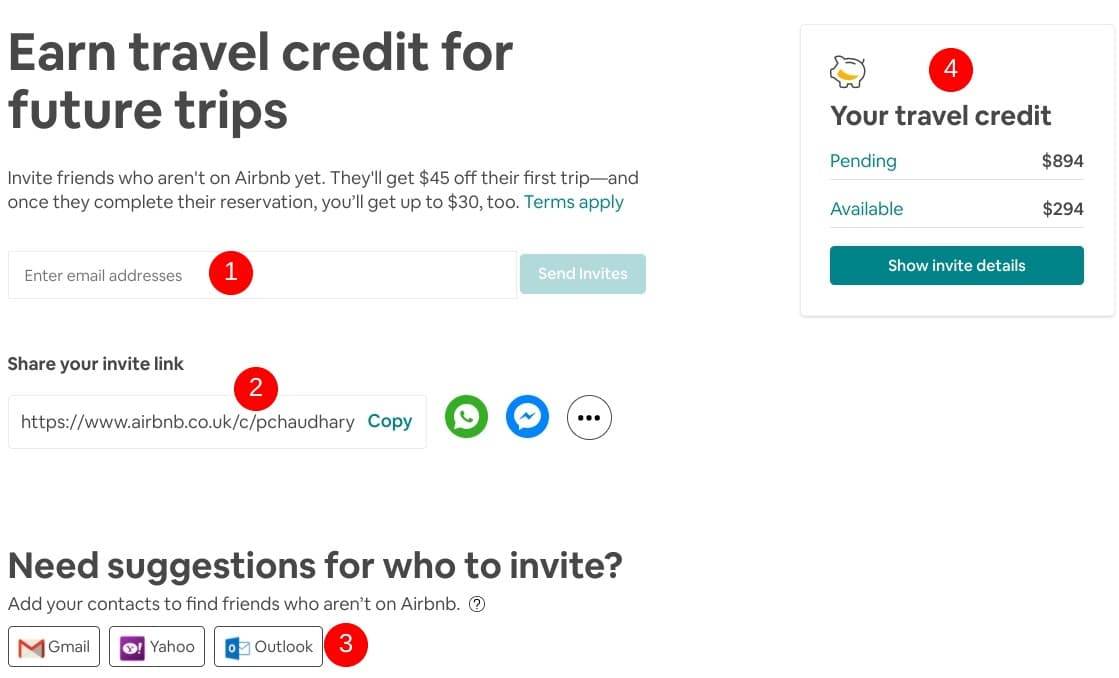 2. Airbnb Referral Program For Hosts ($$)
Airbnb's host referral program is one of the most generous referral programs around at this time.
Basics
Get others to start hosting on Airbnb, and when they complete their first reservation, you get paid.
What do they get?
No perks for people who start hosting using your link :(
What do you get?
The hosting referral payout varies greatly depending on the city you are in; it can be anywhere between $75-600 per successful host referral.
Eligibility Criteria
You can refer to your personal connections only.
Referral links should not be published or distributed on public websites like coupon sites, Reddit etc.
All referred hosts must be a new, first-time host on Airbnb.
The referred host will have 150 days from the date they are invited to complete their first booking for you to earn the Payment.
The first received booking must have a value (excluding cleaning fees, taxes, and special offers) of at least $100 (or the equivalent in your local currency). Read my post on how Airbnb works.
How To Get Your Airbnb Host Affiliate Link
Step 1: Once you have signed into your account, click on your profile picture on the top right corner to open the profile options menu and choose 'Refer a host'.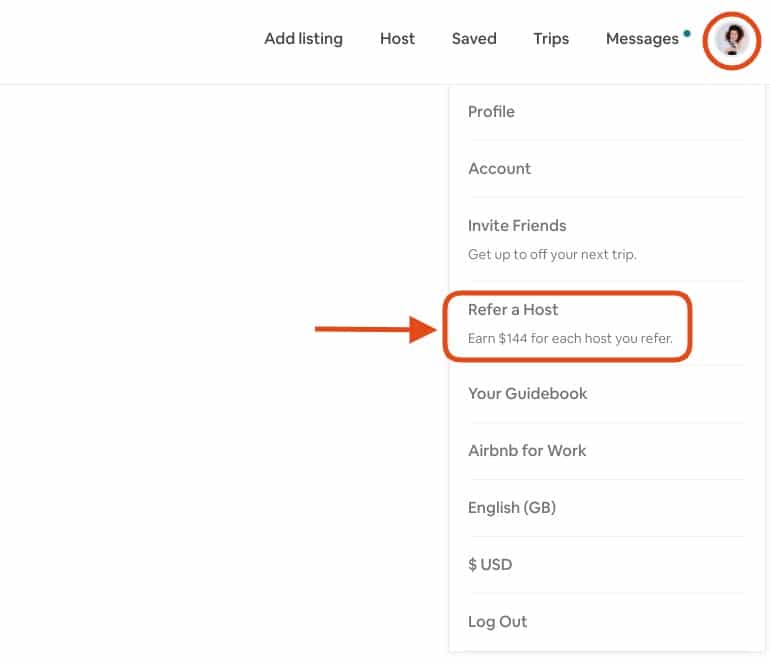 Step 2: Just copy the Airbnb affiliate link on the next screen and share with your personal connections.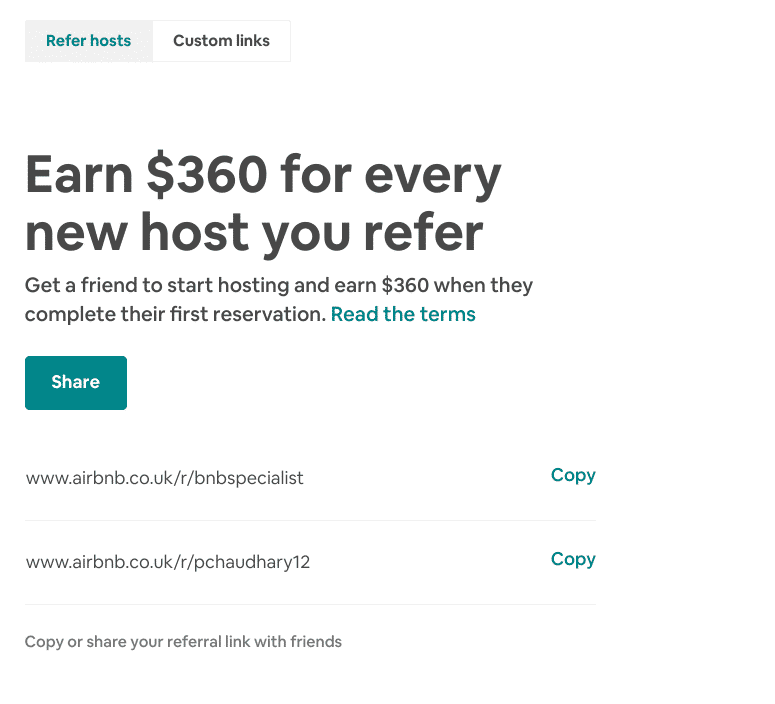 3. Associates Program For Airbnb Affiliates ($$)
Amidst Covid-19 aftermath, Airbnb quietly launched Airbnb Associates program in May 2020.
Basics
This is similar to booking.com referral program, which was the major thrust in its exponential popularity in the last decade. Airbnb associates program pays you for promoting stays to travellers. 
What do they get?
No special incentive for people who book their stay following your referral link.
What do you get? 
It pays 30% of the Airbnb service fee every time someone books a stay through your content.
Eligibility Criteria
At the time of writing this article, there are no eligibility criteria to join this Airbnb referral program.

Airbnb provides referral links, widgets and customizable pages you can share with followers.

You can not use the referral material in paid advertisements. 

You can not use this Airbnb referral program for your travel.
How To Get Your Airbnb Host Affiliate Link
Step 1: Head over to airbnb.com/associates page and click 'Get started' button.
Step 2: On the next page 'Accept' program guidelines.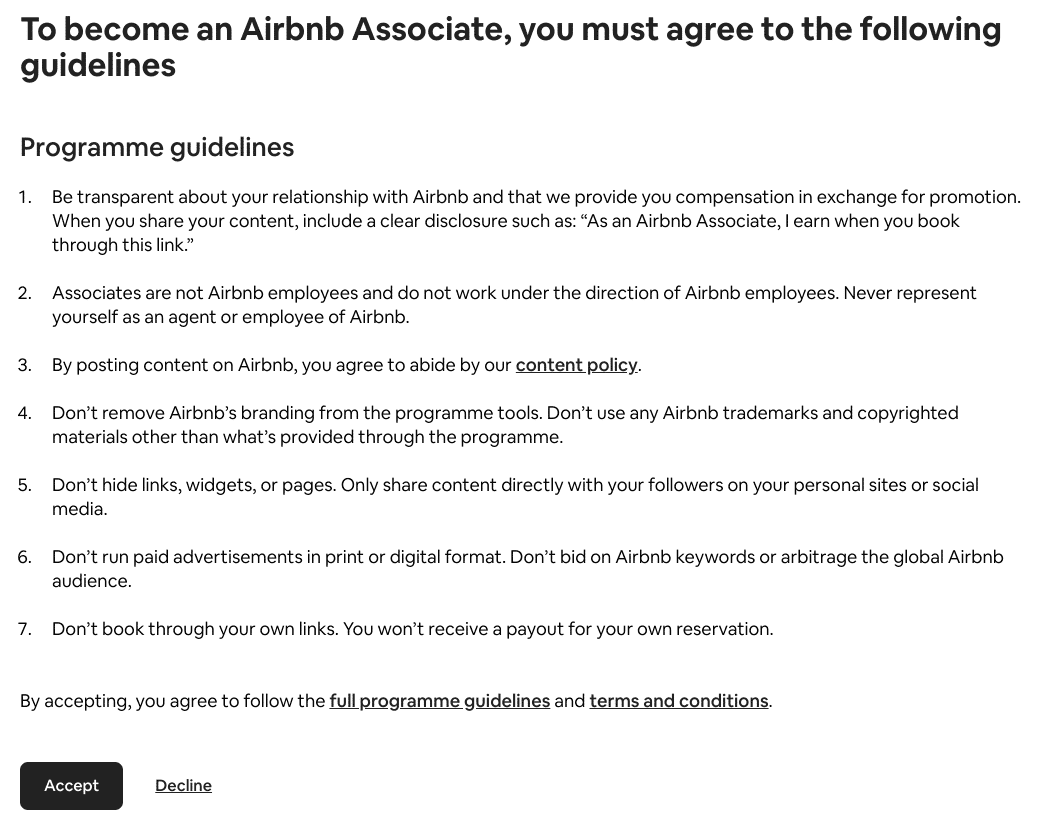 4. Airbnb Affiliate Program For Publishers ($$)
The Basics
The details of the Airbnb Affiliate Program is only known to people who have completed the application and have received approval.
This affiliate program is not for everyone and standards are pretty high.
Eligibility Criteria
To qualify for this program:
You must have at least 1-million monthly visitors to your app or website.
You must be very passionate about connecting and helping people.
Your website or app must have relevant and dynamic content about travel and hospitality.
Have an audience with high intent to book accommodations or host their homes.
How To Join?
5. Skimlinks Airbnb Affiliate Program For Publishers ($$)
Skimlinks
is a monetisation platform for online marketers. Qualifying criteria is not very difficult, but you must be active on the internet with something you can show to them to prove it. 
It can be a facebook page, twitter account, instagram profile, blog, news site or even a travel journal, the list is endless but most important is you should have an audience.
When the Publisher shares their Airbnb referral link, and someone has a successful booking or completes a stay, the Publisher receives credit.
Skimlinks Airbnb Affiliate Program
Skimlinks has Airbnb referral program which will pay you real money for each
traveller
or
host
your refer. The host referral is not as generous, though.
How much do you earn as Skimlinks Airbnb Affiliate?
It has three Airbnb affiliate programs:
This pays you about $0.19 for each click you generate from a new use on an Airbnb listing.
When someone guest books an Airbnb listing following your referral link – Airbnb pays between 15-30% commission depending on country of the property. 
Host referral rate varies depending on the country the listing is in. Highest at the time of writing this post is in $350 when you refer a host in Japan. Lowest is $100 for a listing in Thailand.
This rate also varies based on how Skimlinks rate your website and it may offer you a better plan.
How to join Skimlinks Airbnb affiliate?
Sign up on
Skimlinks
as a Publisher and submit your application to be a part of the network.
Their review process is quick, and you will hear the decision within 24 hours after submission.
Once approved, find the Airbnb supply program in the merchant's list and copy your link to start sharing.