After spending four years in my search for the best smart lock for Airbnb business, I can tell you there are a lot of misleading products out there in the market and when it comes to using them only a few smart locks stand up to to the expectations of an Airbnb host.
Things you should be looking for in a smart lock for Airbnb
Here is the list of three best smart lock for Airbnb which do all of the above and more..
August - #1 Best Smart Lock For Airbnb
Reasonably priced
Attaches to your existing deadbolt lock; use your existing keys anytime
Very easy to install, you can install it using a screwdriver within 10 minutes
Control and monitor your door from anywhere using the phone iOS & Android phone app
Works with most standard single cylinder deadbolts
Auto locks behind you
It can connect with your Airbnb account and automatically generate and send a custom personal entry code for each guest that's valid from check-in to check-out
Guest has to install a phone app to be able to open the door – not everyone uses a smartphone
Guest may be locked out if their phone battery dies or if they lose their phone
If there is a communal entry door, you will still need to find a solution to let the guest in from there
Summary: It is the best smart lock for Airbnb in 2023 and has been the most popular choice of Airbnb hosts around the world for many years.
Pro tip: Let your guest open the door using the Phone app for the first time and ask them to immediately collect the physical key once they are in the property to use after that or keep it as a backup to avoid lockouts if they lose phone or if the battery dies.
iGlooHome - #2 Best Smart Lock For Airbnb

Smart Keybox
Smart Deadbolt
Smart Mortise
Smart Keybox ($149.99)
No installation is required – you can quickly secure it on a firm structure such as railings or door handle
Keys or any other stored inside the Keybox for guests to retrieve when they arrive at the property
It can be unlocked via PIN code, which you can generate via a mobile app
You can select the duration for which the PIN code is valid for
Works offline
Hassle-free setup, just hand the lockbox somewhere secure and it is good to go
Deadbolt & Mortice Smart Locks ($170-225)
Offer keyless entry to guest using an auto generated code which is unique to each guest
Optionally you can provide physical keys or key cards
Manage and control access remotely using phone app
As with the all touch screen locks, the user leaves fingerprints on the panel which can be good enough hint of intruders
Less reliable than other brands offering smart lock for Airbnb
Customer support is not very responsive
Inaccurate documentation
Summary: The smart lockbox solution is one of a kind and is the best product by igloohome. It is reliable and does what it says on the tin.
Compared to the traditional infamous Airbnb lockboxes, it is one to go for especially if your door is in an area with poor Wifi connectivity.
Nuki #3 Best Smart Lock For Airbnb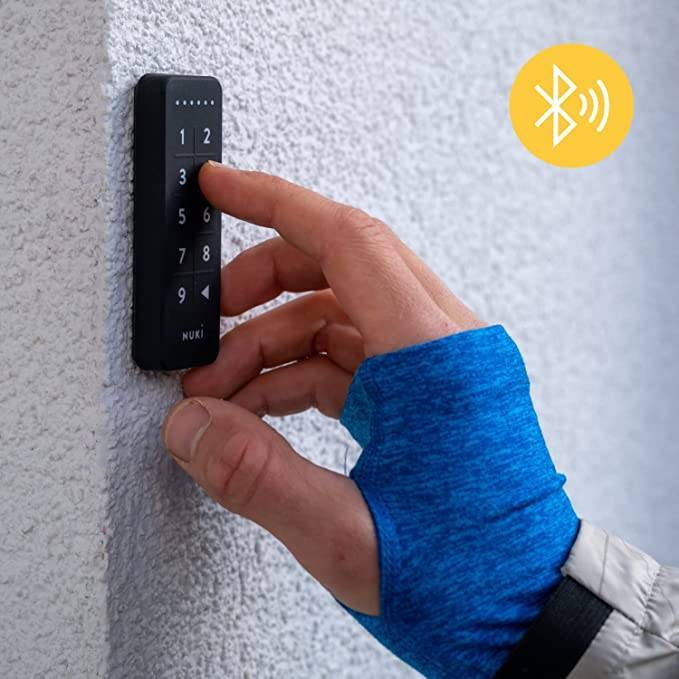 Super easy installation, you can fix it on any lock in less than 5 minutes
Guest can unlock the door via phone app, code or key fob
Comes with smart hub with which it connects to internet
Manage and monitor the lock from phone app
Integrates with Airbnb and it can send access link to your guests automatically
Guest access is valid only during the stay
Expensive
Battery life is short, you will need to change them every 1-2 months
It is bulky and noticeable on the door
Summary: Easy to fit, easy to use and with plenty of unlocking options, this is amongst the best smart lock for Airbnb available in the market – if you don't mind having a bulky device hanging off your door lock.