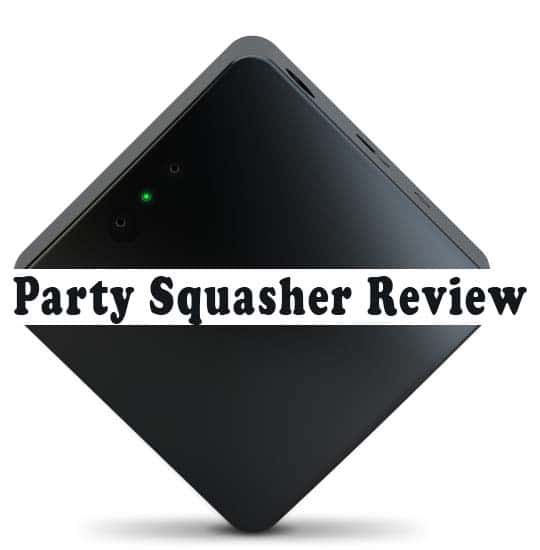 It's 4 a.m., and you get a complaint from your neighbors living miles away from you about the blasting sound coming from your short-term vacation rental. It turns out that the guest who has booked your short-term property has decided to throw a party there, and there is absolutely nothing you can do to stop them this very instant. You frantically call them and text them, but you get no response, and then it starts to worry you because if your neighbors complain about it, you can get delisted. Moreover, you can also face problems with your local law and enforcement agencies.
What if I tell you that there is a way to hold this party before it starts to know your neighbors? You might think how it's possible for you to reach there in time before the party will be a full-blown rager and your neighbors will be severely crossed. A product called party squasher will help you stop any unlawful party or rager happening in your rental property. Party Squasher is a neat device that enables you to detect a prohibited number of guests. It helps know that there is something about to happen in your place before it's too late.
But the big question is, does party squasher really work?
To check out if the party squasher works or not, I decided to try it out in my own Airbnb to see if the claims the product developers made are legit or not.
1. What Is Party Squasher?
A Party squasher is a device you can plug into your Wi-Fi router to detect the number of devices being used nearby. Party squasher is straightforward to install and requires little to no maintenance after configuring it. The device itself is tiny and sleek; it's not very noticeable. It measures only 2.3*2.3*0.9 inches. Party squasher takes very little space because of its very small size, and you could easily fit it right next to your router. It comes with a cord and a USB cable to plug get into a router easily.
2. How to Set Up a Party Squasher?
Installing a party squasher is very simple as everything is configured by a mobile app compatible with iOS and Android operating systems. Setting up a party squasher requires a few steps. You need to name your property, verify your email address, and set your threshold or the number of devices you want to be notified of. You can change all this information later by using an app.
You will also need to choose the relative size of your place according to the preset standards. The options are small, covering a single-story house with a yard, medium covering two stories, and a large, two-story home with four or more bedrooms.
One thing worth mentioning here is that party squasher works well only in detached homes. People discover this thing after they have made the purchase and get upset.
After choosing the size of your house, you will have to set the number of devices that you wish to be allowed before getting you notified. Before installing the sensor, keep one thing in mind that the detection zone of this device is spherical (obviously, you don't want to catch your neighbour's mobile phones or laptops).
I like the most about party squasher because it offers a much more privacy-friendly installation than our old-fashioned noise monitors. Nobody wants to be listened to, and the very idea that you probably be recorded will be enough to make most of your guests feel uncomfortable staying at your Airbnb rental.
Party squasher offers you Wi-Fi monitoring so that you can have a safe and secure method of preventing parties and large gatherings. The sensor of the party squasher will notify you within just 15 minutes if anybody tries to disconnect, and it is also tamper-proof.
4. Party Squasher Cost and Payment
The initial cost of the party squasher includes the sensor itself and an annual subscription to their app service. After an initial subscription, you will have to renew your service each year, slightly less in price than the first year. But still, the cost can be a bit intimidating to a host that has a small budget. It is also worth noting that it gives will have to pay per sensor and not a flat fee, which means the more the sensors, the more will be the subscription fee.
There's no denying that parties' squasher can be a bit pricey. There are two subscription plans: party squasher and party squasher pro. The regular plan starts at $249 for the initial year and between 1-9 sensors. The cheapest plan they offer is $199 a year. The party squasher pro plans are even more expensive, starting at $309 for the initial year and $252 for the subsequent years.
5. Where Can You Buy Party Squashers From?
You can buy a party squasher from Amazon. The reviews on the Amazon site are pretty impressive and show that party squasher is indeed a very well-received product. However, keep in mind that few hosts do not like the efficacy of this product, so before ordering, I advise you to check both its positive and negative rankings.
6. Pros and Cons of Party Squasher
Much more reliable than old fashion noise monitors
Inconspicuous and sleek design
Very easy to setup
A good option for remote hosting
Sync with Airbnb, VRBO, home away, and more
Reliable phone app
Works well only in detached homes
Smaller property hosts may find it a little expensive
All in all, a party squasher is an innovative device. It is superior to old-fashioned noise monitors both in efficacy and privacy. Your guests cannot fool it by throwing a blanket over it or disconnecting it as if it gets "accidentally" disconnected; you will have a notification instantly. Also, its sleek and modern design makes it fit almost invisible to your router setup.
However, it is more inexpensive, so I don't think hosts with limited budgets can afford it. This is the main downside of this product because the initial cost is pricey, but the per subscription cost is only slightly less than the initial one.
Once you have installed a party squasher in your short-term rental, you will have peace of mind that you won't be getting angry calls from your neighbours due to a raging party at your place.