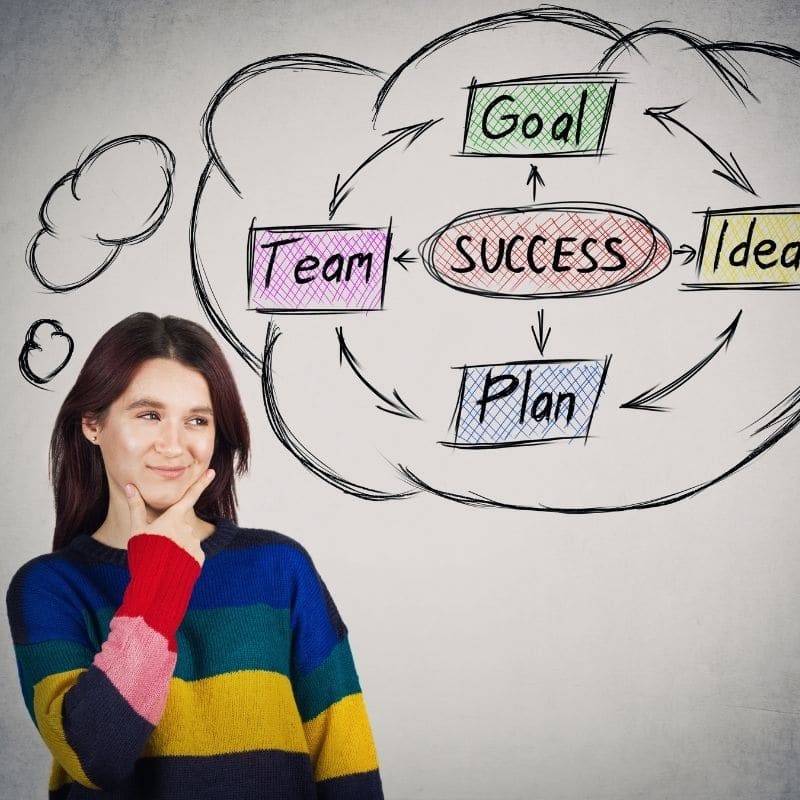 You may wonder why a simple property renting would need an Airbnb business plan. Let us answer this.
What is the first step of starting a successful business?
It's a sound and organized business plan. This plan acts as a basic guideline that will help a business owner in deciding further necessary steps. It wouldn't be wrong to say that the key to a successful business is setting up a solid plan that acts as a foundation for your business system.
Airbnb business is no different from other businesses; in fact, it is one of the most flourishing hospitality businesses in the world. This is why you need a fool proof Airbnb business plan before stepping into the world of short-term rental.
Just like other businesses, Airbnb rental business does not promise you quick money-making. This business requires your time, effort, patience, and investment.
By creating an intelligent Airbnb business plan, you will be able to mitigate the risks that will come along with this business, and you know what to expect. An Airbnb business plan will be a blueprint to your rental business, but keep it kind that this plan is dynamic, which means it will change with time and need. Here are some reasons why one would need a basic Airbnb business plan:
Make operations of your rental property like booking and checkout manageable and effective.
Offer the best chances of success to your rental business
Help you focus on the necessary tasks
Assist you in making intelligent decision
Airbnb Business Plan Guide
Let this article be your guide in creating a solid Airbnb business plan so that you will be prepared at every step
1. Airbnb Business Plan - Analyze the Market in Your Area
Before stepping into Airbnb rental business, the first step is to analyze the market keenly where you wish to operate your Airbnb rental. You have to ask some questions yourself before deciding whether you want to put the specific proper on rent. Does your Airbnb vacation rental business fit within the rental market of your area? What different or attractive amenities are you providing to help you become prominent in the market? Is the place where your rental property is an Airbnb rental dense location? Most importantly, what is the demand for Airbnb rentals in that area?
Generally, a place with high travel demand, loose regulations, high turnover chances, and low seasonality will have a better Airbnb business.
If you decide to list the property with a low market or the bookings fluctuate significantly according to the seasons, you will have to reconsider your decision. Your Airbnb business may sail or sink depending upon this first step, which is why I deem it the most crucial part of the Airbnb business plan.
2. Airbnb Business Plan - Identify The Guests You Want To Entertain
For every product or business, there are specific consumers. You cannot market your product to everyone. This is why the next step of your Airbnb business plan is to identify your target guests.
Take some time and think about what kind of guests you are willing to cater to. Don'tDon't forget to analyze what kind of guest influx is in the area of your Airbnb and then decide accordingly.
Also, the size of your rental place matters too. For instance, if you're renting out a one-bedroom apartment, you definitely can't give it to any family or large groups. Similarly, if your rental is in a corporate hub, then it's certainly not for a couple looking for a romantic getaway.
Depending upon the factors mentioned above, you can host hikers, couples, digital nomads, families, business travellers, etc.
Niching down your target guests helps you provide better amenities according to the guest's needs. For instance, fast Wi-Fi and a working desk will be excellent options for catering to a business traveller.
When you mention the target audience in your listing intelligently and subtly, your place will immediately click to that specific host, and they are most likely to book it.
3. Airbnb Business Plan - Competitor Analysis
If you want to succeed in any business market, you have to analyze what your competitors are doing. The same is the case with short-term rental businesses.
In your Airbnb business plan, you have kept track of what the others in the hospitality business in your area are doing. Remember, your competitors aren't only the other rental property owners but also hotels and small motels in your area.
The prices of any rental property drastically affect the booking rates. If your competitors are providing the same level of service at lower than your prices, you need to consider the price change per night.
Similarly, if other rentals or hotels provide good amenities and high-quality accommodation, you will have to level up your service game to compete again.
Security and management also play a role when a guest is looking to book a place. They will want a more secure visit and stay at an adequately managed property. So, analyzing your competitors can help you stay on top of the game.
4. Airbnb Business Plan - Legal Requirements
After you have done your market research, the next step is to ensure that your services are entirely legal and your property is completely authorized. Make sure you have completed all your paperwork and have all the legal documents of the property.
Some areas require permission from the state or local municipal government authority to use your property for short-term rental business. Similarly, like every other business, you have to have your business taxes paid to run your business without any hindrance.
Also, some states do not allow you to run a short-term business altogether, so before starting an Airbnb business, make sure you research your area. To know more about the government laws and policies regarding short-term rental, visit the Airbnb website and make sure you read all the points carefully.
You have to visit the government authority for licensing matters as there is no information available elsewhere about it.
5. Airbnb Business Plan - Property Analysis
This property will be your business source; therefore, analyzing it by keeping all the crucial in mind should be an essential part of your Airbnb business plan. You have to make sure if the property is worth investing in. Before ploughing your money into the property, keenly analyze the business potential. 
Every property needs maintenance at some time, like refreshing the paint, replacing broken equipment and essentials, and stocking up things like toiletries, basic groceries, etc. You have to weigh in if the property you are willing to give on rent can generate enough revenue to cover the investment cost and make a profit.
Some properties require more investment than others in terms of maintenance, for example, beach houses. If your beach house is rented chiefly in one specific season, you still have to bear cleaning and other maintenance expenses. You have to calculate if this beach house of yours generates enough in one season to cover the maintenance cost of all year and still provide profit.
6. Make A Sound Financial Plan.
This is one of the most crucial aspects of the Airbnb business plan. You have to evaluate how much investment you can make. The financial goal is substantial to be considered part of Airbnb's business plan if you're willing to invest in heavy business models like arbitrage.
There are various other costs involved other than mortgage or rent. You will have to spend on basic groceries, bedding, household goods, and proper maintenance. You have to calculate the cash flow and expenditure to know where you stand financially. You have to figure the cash flow and spending to see where you stand financially.         
When there is a dense market, you will have to make your product unique to stand out amongst your competitors. You have to think about what unique amenities or services you can provide your guests so that they can attract your potential guests.
Now, this calls for you to unleash your creative thoughts and think about what could make you stand out. Good communication, Wi-Fi, good customer service are the basic amenities and part of a regular service. Don'tDon't think of it is as a unique point of your property.  
You think out-of-the-box to make an impressive point. Here are some examples as to what services you can provide that your competitors probably won't:
Fireplace
Patio with a scenic view
Gas barbeque
Beach-side furniture
Private swimming pool etc.
Marketing is what sells the services or product. Similarly, a good marketing strategy included in your basic Airbnb business plan is substantial to spread the word about the services you are offering and how unique your rental is than your competitors.
Some short-term rental hosts would just put the listing of your property on Airbnb and wait. But this waiting and listing is a painfully slow process when it comes to booking. You must be wondering what else you can do? Well, other than the Airbnb platform, there are many other short-term rental platforms like VBRO, HomeAway, TripAdvisor, etc.
When you're using more than the platform, you probably would need management software to manage all your accounts effectively. This property management software sync your booking dates to avoid overlapping of booking dates and effective communication with potential guests.
If you can invest an amount in creating a website on your listing, you can easily increase your reach after using SEO and paid to advertise.
Well, it's obvious the higher your listing will be on the Airbnb site, the more will be the chances of bookings. So your Airbnb business plan must include strategies to rank high or in the initial pages. Airbnb considers many factors before ranking a listing; Airbnb looks into over 100 ranking factors. Some of the essential ranking factors include:
Dwell time
Guest satisfaction
Guest reviews
Pricing
Stay length
Listing length
Guest communication
Booking rate percentage
Personalization
These are just a few, and you have to put in some effort to rank your listing on the top.
10. Attractive Airbnb Title
The Airbnb title is one of the most important factors when it comes to attracting guest views and ranking high. Put in some time and effort to write a killer Airbnb title.
The thing which is the most noticeable after your title is your description. Within the limited description space, you will have an eye-catching and descriptive Airbnb description structure. This depends upon your creative skills and research.
The faster the response, the higher your ranking will be. To be a fast responder, you can take help from automated guest communication apps and software. This software can send automatic replies and also help you manage the inbox of more than one platform at a time.
13. Good Reviews And Ratings
A positive review and a five-star rating are substantial for the recognition by the Airbnb algorithm. The key to generating positive reviews is to provide the best services. The better the guest's experience, the better will their response be.
14. Responding To Guest Reviews
Not only will you have to gather good reviews, but you also have to be responsive to the reviews left by the guest.
Conclusion - Airbnb Business Plan
Now that you have your solid Airbnb business plan ready, it's time to implement the points you've drafted. Without a proper Airbnb business plan, the initial steps will feel overwhelming. But, now that you have every moment documented, all you have to do is follow step-by-step. The results won't be rapid; the Airbnb business plan is no magic wand, but eventually, you will see the bookings coming, and you will be able to manage it more sophisticatedly. You need to trust the process!
One point to note here is that this Airbnb business plan is not definitive, and you can always change anything if you experience it isn't working for you.