Wayfair, one of the largest online store for furnishings has announced that customers of its 'Wayfair Professional' program,  can purchase pre-designed fixtures and furnishing for Airbnb interior design with just a few clicks, taking away all the hassles of providing a space for short-term rentals cutting the lead times and costs significantly. 
All pre-designed rooms are fully-furnished by experts, including everything from the essential items to the smallest one.
You can select from thoughtfully designed bedrooms, living rooms, dining rooms and more, maximised with highly functional products such as sleeper sofas, alarm clocks with USB ports, and smart locks, to suit a variety of renters' needs.
It is free to sign up for Wayfair Professional account and this service is only available in US.
You will need a Business Name and Employer Identification Number (EIN) to complete the signup process.
Airbnb Interior Design With Wayfair Professionals
Step 1: The way it works is, head over to Wayfair Professional page, click here if you don't have the link. 
Enter your Email ID and click 'Join Free' on the first screen.
Step 2: The following screen will come loaded with your Email ID, just enter your desired password and click 'Continue'. 
(The option 'Create a new Wayfair Professional account' doesn't work at the time of writing this blog)
Step 3: Choose 'Property Management' on the following screen.
Step 4: Choose 'Residential' on the next screen.
Step 5: Enter your First name, last name, phone number and press 'Continue' to the next stage of verification.
Step 6: Next is the business verification page, enter your Business Name and Employer Identification Number (EIN). 
Your nine-digit Employer Identification Number (EIN) can be found on tax documents such as W-2s and 1099s.
It will take about 48 hours to approve your trade account.

Note: Business details don't seem to be very important. As this is a new service and Wayfair seems to be very keen to enroll users to the platform, I got a call from them immediately after I submitted my request and the representative mentioned as long as I can provide a US address and phone number, they can sign me up for this service.
Step 7: Once your membership is approved, you will get an email with subject 'Welcome to Wayfair Professional!' with the marketing graphics included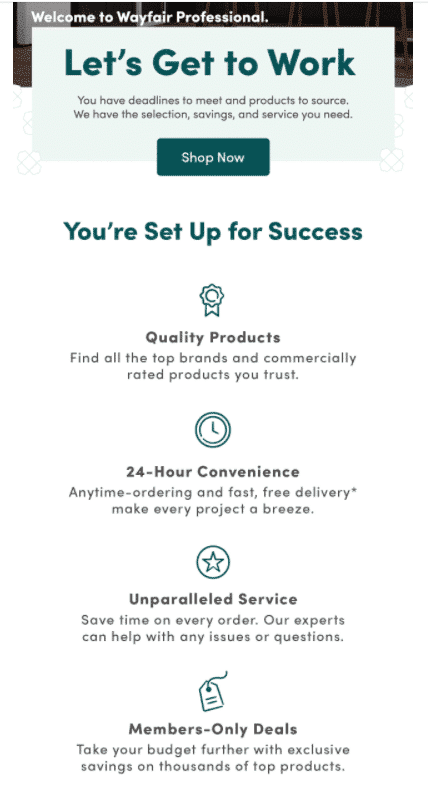 When you click on 'Shop Now' button at the top, it will lead you to login screen and you can use your credentials provided in Step 2.
Step 8: Once past the login screen, this pop up follows, choose 'Accommodation' here.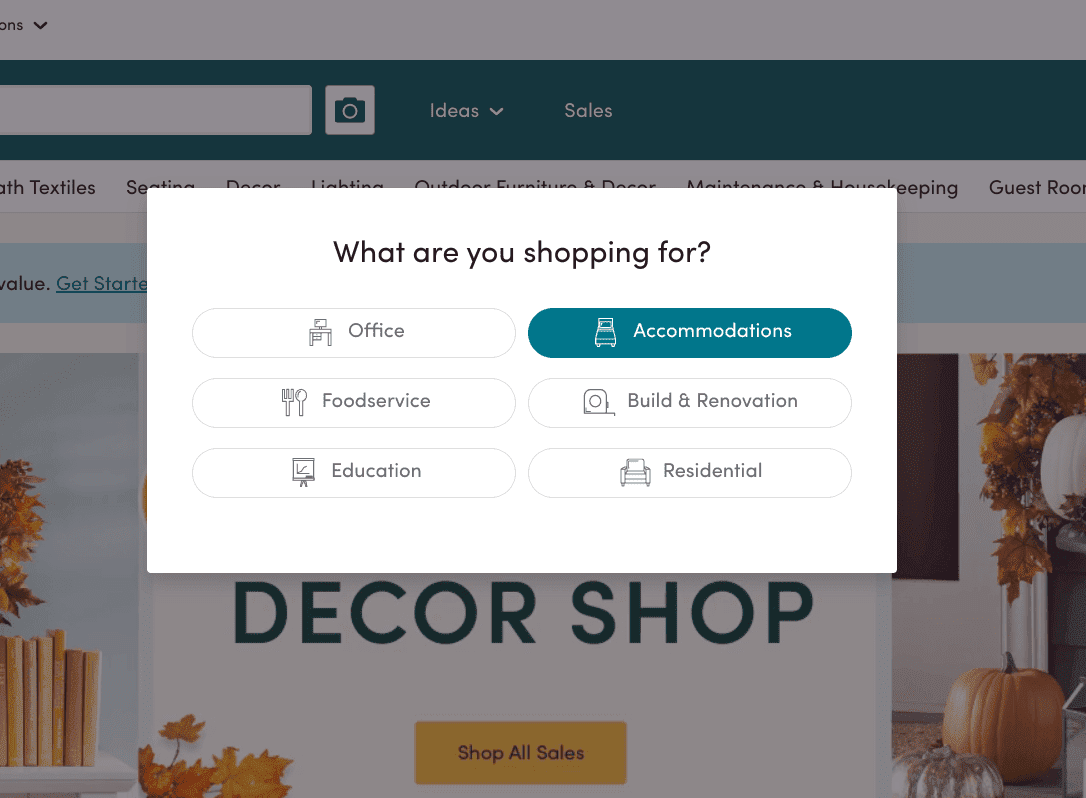 After this you land at the home page of the Wayfair Professional website. Each option available in the menu is worth visiting, the prices are definitely different from the normal website.
Step 9: Next, for airbnb interior designs, head over to the All Set Rooms section on the landing page, alternatively you can following this link.
Just explore all the option available under each section, each room set is carefully designed by professionals to last for long in short term holiday lets, increasing guest experience many folds and taking the hassle of Airbnb interior designing at the same time especially if this is the first time you are doing it :)
Alternative: Handpicked Items for Airbnb