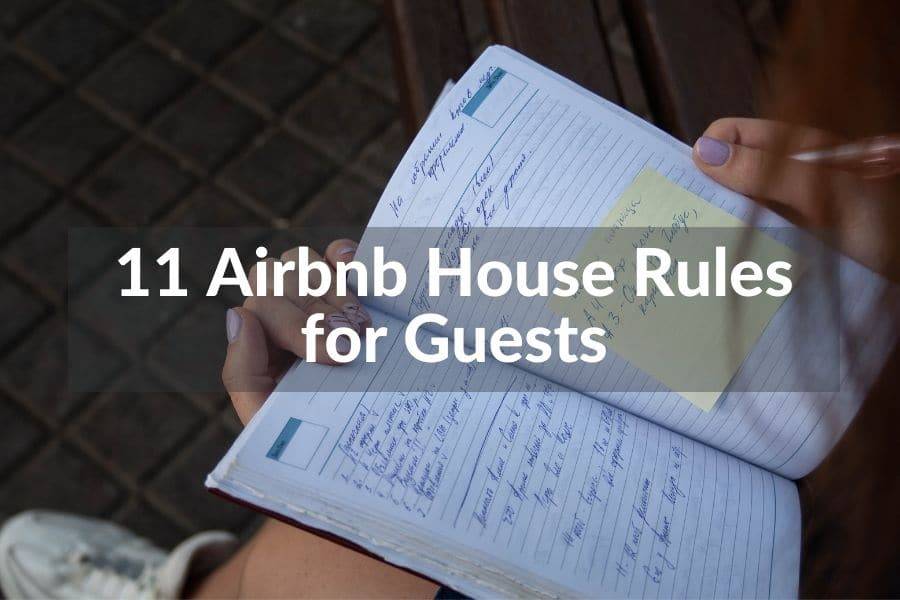 Before listing the property on short-term rental platforms such as Airbnb, every property owner has concerns over how the guests will treat their property. Well, these Airbnb house rules for guests are there to keep your mind at ease before making a listing.
So, if you're new to the Airbnb short-term rental journey and are clueless about what house rules you should implement, let us help you out.
1. What Are Airbnb House Rules For Guests?
These Airbnb house rules for guests provide the property hosts with a degree of control over the way the guests utilize their rentals. These rules are the guidelines covering how you expect your guests to behave while staying at your property.
Any host must set clear Airbnb house rules for guests and make sure they follow them.
A clear and well-defined set of house rules can help you avoid all kinds of problems that you may experience while putting your property on a short-term rental website, like property damages or arguments with neighbours.
These rules make your guests accountable if they break any of these.
Airbnb house rules for guests are present on the listing page so the potential guests can look at them before they book your place.
2. Airbnb House Rules For Guests Examples
Below are some examples of Airbnb house rules for guests that all property owners should consider adding to their Airbnb rule book.
3. No Events Or Parties Are Allowed.
You have to make your guests know that an Airbnb rental is not an appropriate or ideal location for any party. 
Firstly, events and parties usually create a lot of noise, which can drive your neighbours crazy.
Secondly, think about all the mess these parties can create. You don't have to spend extra cleaning the after-party mess, which is the last thing you want to do.
Allowing events and parties will increase the likelihood of your guests breaking other house rules like smoking, using recreational drugs, or damaging your property.
Would you like your guest to be greeted with the peculiar smell of cigarette smoke? Obviously no, what could be worse than that?
If you don't get enough time to ventilate after your guest has left, the smell of the cigarette smoke can be a significant turn-off to your next guest.
To make matters worse, some unruly smokers can even damage property by putting their cigarettes in different kinds of places on living burn marks on your furniture.
So make sure your Airbnb house rules for guests explicitly state that you do not allow smoking inside your rental property.
If you have organized a designated outside area where you can allow us to smoke, ask them to throw the cigarette parts into the rubbish bin is instead of the ground.
Pets are cute. We do not deny that, but allowing your guests to bring their pets to your property would get so much nuisance.
The 'no pets' policy can protect your property from unwanted smells, barking noises at night, hairs everywhere, bite marks on your furniture, chewed-up carpets, etc.
While people may argue that allowing pets can give you an advantage over other hosts, but you have to contemplate if you're ready to deal with the nuisance coming with it.
6. Don't Eat Or Drink In The Bedroom.
This Airbnb house rule is pretty straightforward but reasonable to include in your rulebook.
Eating can create a mess, especially if your guests are toddlers or children. So prohibiting your guests to eat or drink in the bedroom saves you many cleaning headaches.
You will not want to deal with the food stains on your white sheets or red wine marks on your clean linens, will you?
7. Respect the Noise Curfew
In most neighbourhoods, between 9:00 p.m. and 7 a.m. is usually quiet time. If you want to maintain good terms and relations with your neighbours, ask your guests to follow the noise curfew and turn the volume down after 9 p.m.
8. Turn Off The Heater Or AC When You Go Out.
You don't want to pay crazy utility bills at the end of the month. You have to make sure your guest turns off the heater or the AC every time they go out.
9. Respect the Check-In And Check-Out Times
This is one crucial rule to be included in Airbnb house rules for guests. Sometimes even after you have clearly stated the check-in and check-out time at the time of reservation, some guests will arrive early or leave late and ignore the mentioned times.
If your guests leave late, it could disturb your schedules, like cleaning or maintaining the house for the next guests.
Also, sometimes it could even happen that your other guests arrive before your former guest checks out. To avoid such confusion, explicitly mention the check-out in checking time in your Airbnb house rules for guests.
Think about it! If you allow its visitors to your property, your guests can take advantage of it, and as a result, you can experience staying over of unregistered guests.
If you allow visitors on your property, you can limit the number. This can help protect your rental property from the extra usage of supplies and additional wear and tear.
11. Do The Dishes Before Leaving.
Some guests are just plain messy. Even if you have provided them with the dishwasher and the cleaning supplies, they would still leave the dirty dishes in your kitchen sink. This will add to your cleaning budget and would also consume your time.
So to avoid managing kitchen mess after your guest checks out, state the rule in your Airbnb house rule for guests that the guests have to clean their used dishes before leaving.
12. Conclusion- Airbnb House Rules For Guests
Setting clear Airbnb house rules for guests that match your rental place and preferences can be of great help in avoiding the damage to your property caused by the guests.
Remember to state your house rules in a simple explicit tone; you will have peace of mind that things are in control.