Apart from cleanliness, your guest's Safety is of prior importance as highlighted in the Airbnb Trust And Safety guidelines.
Though the guest has booked your property after checking genuine ratings and reviews of previous guests, you have to maintain that reputation and do periodic checks of all emergency equipment, as well as expiry dates of all first aid medicines.
As a responsible host, you need to provide:
1. Fire Safety
2. First Aid Kit
3. Safety For Children
4. Emergency Exits
5. Emergency contacts
1. Airbnb Trust And Safety - Fire Safety

You need to make your property fire safe. No matter how small or big your property is, fire safety is not something to be overlooked. Make sure it is compliant with all the local regulations and make sure you have the following items in the property:
Fire Alarms

Carbon Monoxide Alarm

Fire extinguisher(it should be serviced annually)

Fire Blanket in the Kitchen
I have added all my recommended list of safety equipment in the 
shopping list for Airbnb items
, and this is a handpicked list of all things I prefer to use in my Airbnb properties.
2. Airbnb Trust And Safety - First aid kit
You must provide a basic first aid kit containing:
Antiseptic cream

Antiseptic liquid

Painkiller tablets

Anti-allergen tablets

Cough medicine

1 Crepe bandage

2-3 Gauze bandages of different widths

Plasters of different sizes

Thermometer

Disposable gloves

Scissors

Tweezers

Cleansing wipes

Sticky tape

Eyewash
A guest may connect with queries concerning their children. Since you will know beforehand if children are also accompanying the guests, you can take some extra precautions for their safety. 
Keep the following hazardous items out of reach of children:
Sharp objects

Detergents

Extension wires 

Electric equipment

Safe sockets

First aid kit

Anything else in your property that is unsafe for children
As a host, it is vital to inform guests about the emergency exits on arrival.
Under your Airbnb host profile, if you go to Edit listing > Amenities > Home Safety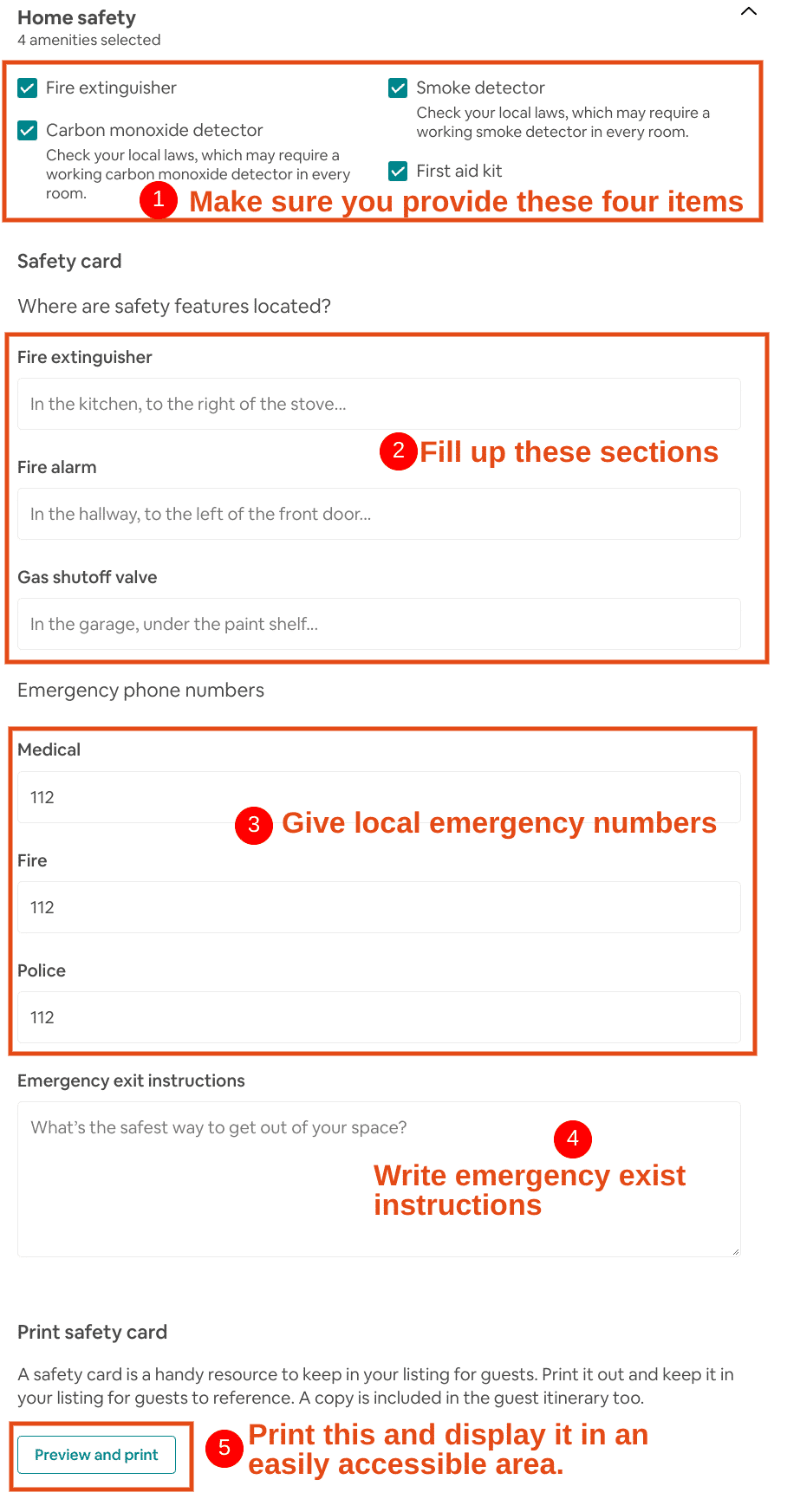 5. Contact information in case of emergency
As per Airbnb trust and safety guidelines – provide phone numbers, names and email addresses in the welcome guide and ensure that your guests have your contact details, as well as emergency numbers for nearest:
Hospital
Fire station
Handyman
Locksmith
So they know where to ask for help, as well as contact Airbnb or the local authorities in case of emergencies.