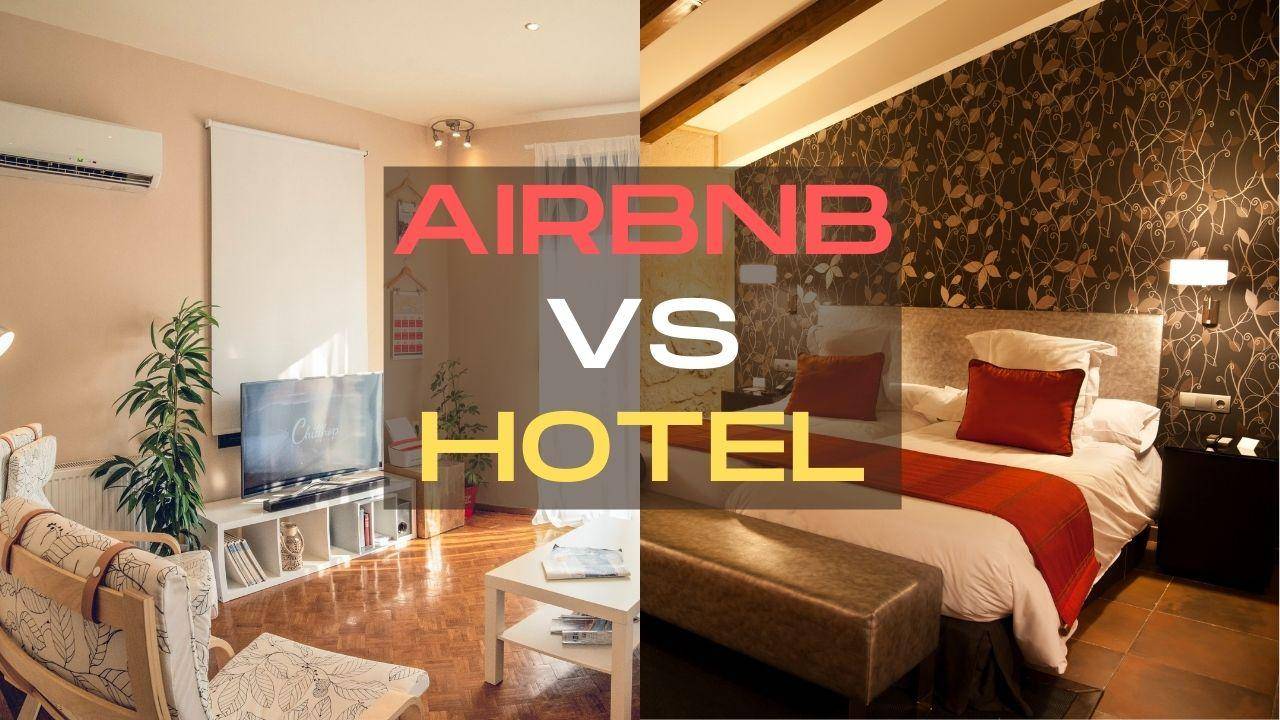 Airbnb vs Hotel debate is going to stay here forever. Since the launch of this peer-to-peer rental vacation site in 2008, there has been a raging battle between hotels and Airbnb. 
Some people have their inclination towards hotels whole others love the new accommodation service. One thing is, however clear, both Airbnb and hotels have their own pros and cons.
1. Way cheaper than a hotel
The booming popularity of Airbnb is due to one main reason. It's affordable! Vacations are always tempting, but the cost of accommodation takes away all the fun; some quit the idea of vacationing altogether due to the unavailability of budget-friendly accommodation in the area. Since the launch of Airbnb, the overall vacation cost has gone down, and people get to spend quality time with their loved ones in their budget.
What's more, most Airbnb hosts offer weekly and monthly discounts, so if you're planning to stay at a place for a long time, Airbnb is a more affordable option than hotels.
2. You can always negotiate
With Airbnb, you directly got to deal with the host of the place, unlike hotels. Hosts can even offer you special offers.
If you have any reservations about the cost, you can negotiate with the host, and hosts will most likely agree if they have to fill up the week's vacancy. So, it's a win-win for you both.
3. Experience life as local
If you want the real and raw experience of an area, live among the locals instead of living in places with all the foreigners around. If you want a completely different and authentic experience, Airbnb is the one you should opt for your next vacation.
The biggest con of these short-term rentals is they are primarily unregulated despite the strict laws imposed in the area. If anything goes wrong with your Airbnb, you don't have any manager to talk to about it. You need to contact the host, and the problem resolution will take a long time. You have the choice of calling for Airbnb customer care service, but many guests find it not-so-helping either.
 There are some things you should consider booking a rental place to avoid any nuisance.
Look at the reviews
Take out time to look at all the reviews. You can even use keywords like 'dirty,' 'safe,' etc., to know about the place's guest experience (good or bad).
Super hosts
Airbnb lists some hosts as 'super hosts' for the ones that provide the best services. To retain this title, these 'super hosts' keep their services top-notch in every aspect. They must keep their rating maintained at 4.8 and need to respond to 90% of the messages within 24 hours.
Message to hosts beforehand
Message your host before check-in, or book his place if you have any concerns. Do not hesitate to contact your Airbnb host if you find any issues after check-in also.
Send Airbnb itinerary to friends or family
Never forget to send your friend or family member the exact address of your Airbnb space, your host's name, and his phone number. If possible, send them your location coordinates after you check-in.
2. Airbnb can ruin the local economy
In some areas, the Airbnb market has skyrocketed, and this makes locals afford rentals in their budgets becomes challenging. Why would someone want to give their property to a local for low prices and long-term stay when they can earn a hefty sum to give away their places at high prices to the foreigners?
In turn, locals get poorly affected and find it extremely hard to get affordable housing.
3. Not-so-efficient customer service
Sometimes Airbnb services respond very slow, and getting prompt and quick from them can be such a pain. We understand that Airbnb is now a huge industry worldwide, but such horrible customer service from such a famous name can be annoying.
Also see do you tip an Airbnb host?
Hotels hire a whole management team to keep the place managed even when there is a high influx of visitors. You can have high-quality service at any time of the day.
2. Top-notch customer service
You can expect the most efficient customer care services from hotels, as they are in the business of hospitality and staff is professionally qualified. 
Call their customer care services at any time of the day or night, and you would get the most efficient response.
Vacations are for relaxing the days away and not making your food and doing groceries. In many hotels, you will be pampered like anything.
You will have guides and cabs at your service with just a call. There might even be a spa or salon in the hotel where you can relax. Staying in a hotel is a very different and relaxing experience than Airbnb.
4. What you see is what you are going to get
Many guests complained about the place not having the same great environment or aesthetics, as shown in the pictures online. Their space is not as endorsed in the listing, and the neighbourhood can be horrible.
With hotels, you know you'll be having the same ambience as shown in the pictures of their sites.
1. Far more expensive than Airbnb
Sure, you can avail the best accommodation services in a hotel, but you will have to pay a hefty sum for it. With Airbnb, you can avail of monthly discounts and offers and choose your rental according to your budget and the location.
2. You can't have the 'living between the local' experience
Hotels are mostly crowded with foreigners only and not locals. The only locals you'll probably find in hotels are those that work there, and they aren't allowed to mingle with the guests.
While in an Airbnb, you get to know the natural surroundings and environment where natives live.
You can shop from the local grocery stores and shops and have a chance to interact with the natives more. The raw and authentic experience you only get when you live near the locals.
Airbnb vs Hotel, which one should you opt for?
So, who wins the Airbnb vs Hotel war? Honestly, it depends upon you. Generally, Airbnb rentals are a much cheaper option than hotels, so if you want your vacation accommodation to be within the budget, then Airbnb short-term rentals are the ones you should choose.
However, if you're more inclined towards the ambience, hospitality, and services, you should go for good 'old' hotels.
One of the reasons people hesitate to book an Airbnb rental is the lack of reliability.
Ask yourself some questions before booking either Airbnb or a hotel:
Do you like the raw native experience? Airbnb should be your choice.
Do you need efficient customer services and require some pampering? Book a hotel room.
Are you on a very tight budget yet want to have the best vacation? Airbnb rentals are here for your rescue.
So, it depends on what kind of vacation experience you would want, whatever you choose; I hope you have a happy vacation.