We know its customary to tip the hotel staff, but do you tip Airbnb?
Most of the Airbnb hosts to charge a fixed cleaning fee for each booking but what if there is no cleaning fee – do you tip?
Or should you clean up before checkout?
It's up to you. Your host has set a price and they expect it will fully cover the stay. They suggest you research cultural hospitality norms in that area. If you want to show appreciation for your host, write a review encouraging other guests to book their trip.
Find the cleaning fee first!
Airbnb gives an option for hosts to set a cleaning fee each guest must pay at the time of the booking. 
Its a one time fee for each stay and its purpose is to compensate the host for time, and effort spends on cleaning up after the guest leaves.
When there is a cleaning fee listed:
If there is a cleaning fee listed, you don't need to tip. It is an additional fee you pay for the effort spent in looking after the place.
When there is no cleaning fee listed:
When there is no cleaning fee charged by the host, and the prices were reasonable – you can leave a tip.
When the host provides goodies:
In this case, it's best first to ask the host whether it's free or not.
If it's free, you should appreciate the gesture; it will be nice to leave something beautiful behind for the host. It can be fresh flowers, wine, chocolates or a souvenir.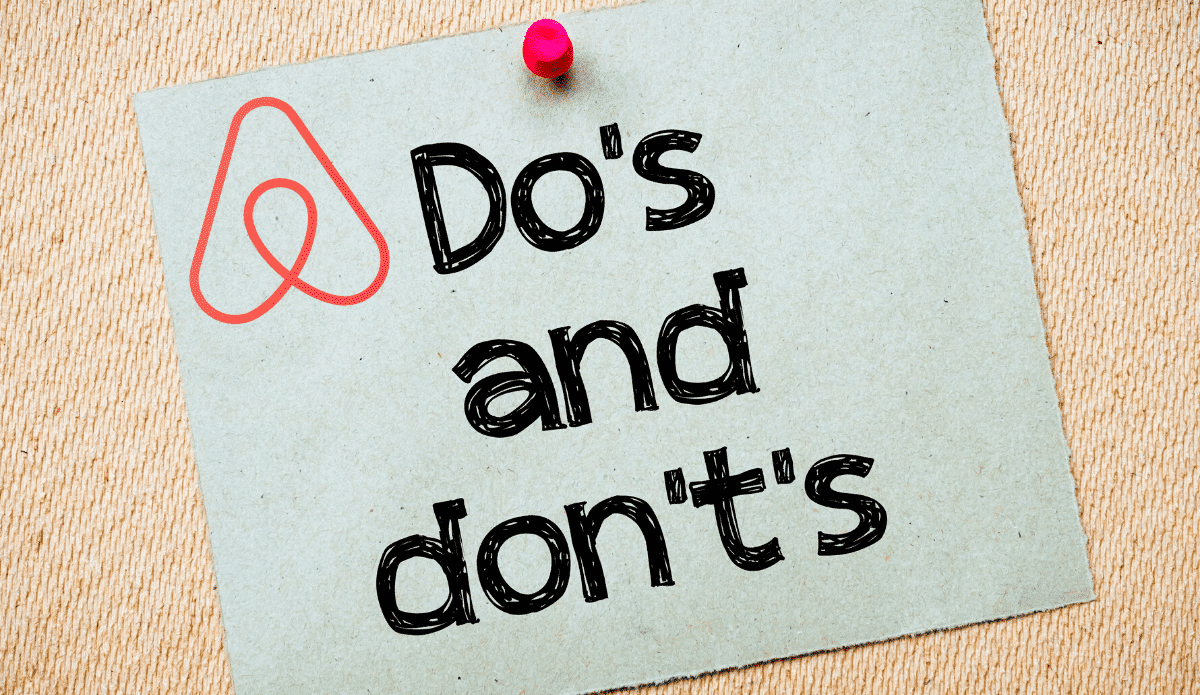 Communicate with the host 
Don't ignore the messages your host sends, acknowledge when you receive a message and provide the information if the host is asking for.
If you are unhappy with something, tell the host
Most of the Airbnb hosts are sharing their homes with guests, and things go wrong in homes all the time. If something is not working, let your host know and allow him/her to fix it.
Read the reviews before booking
Airbnb is all about reviews, make sure you read recent reviews of the property before you book. Avoid anything that is 4.8 Stars or less.
Know the location and neighbourhood before booking
To avoid last-minute surprises, always check the location of the property before booking. Make sure it is in the area you wouldn't mind staying.
Read the house rules
Read the
Airbnb house rules
carefully and make sure you are comfortable with them. If in doubt, ask the host to clarify.
Only pay through Airbnb
Don't send or receive money outside the Airbnb platform. If something goes wrong, Airbnb won't be there to cover your back. Use
Airbnb resolution centre
 for all monetary transactions related to your Airbnb stay.
Keep Airbnb helpline number handy
When things don't turn to go as per your expectations, it's important to keep
Airbnb contact number
handy at all times during the stay.
Ask your host for local recommendations
Not sure the place to eat? Or the best shop to buy souvenirs – ask your host for recommendations.
Don't assume things
It's better to be safe than sorry, ask the owner of the place about things you are not sure of instead of trying to work it out yourself.
Don't communicate outside Airbnb
Unless its an emergency, try to communicate with the host using Airbnb messaging. It will allow Airbnb to investigate communication if the need arises.
Don't expect a hotel-like service
Airbnb is someone's home; it's not a hotel – keep this mind before starting to complain about anything.
Don't forget to clean up when leaving
It is a nice gesture to clean up before checking out. Read the house rules and ask the host for any checkout instructions.
Don't expect the host to be around all the time
Airbnb is not a full-time business; it is someone sharing their extra space with travellers – don't expect them to be around all the time to help you with things, give them some time to respond to your queries.
You don't need to leave a tip
There is no need to leave a tip behind for your host. A thank you note is always nice to leave behind for your host.
Leave a souvenir if you want.
Don't expect your host to make local reservations for you
Don't expect the host to run a concierge service for you. Ask for recommendations from the host and make your reservations where you want.