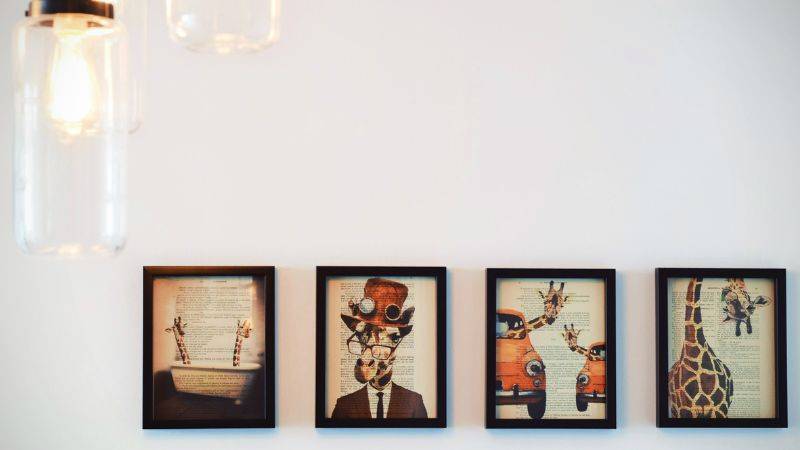 As you set up your Airbnb, certain expectations undoubtedly come to the fore. Your accommodation must embody comfort, cleanliness, and a sense of warmth. Yet, for numerous hosts, wall art often becomes a secondary concern, usually represented by a few arbitrary paintings placed on the wall without meticulous thought. Nevertheless, the inclusion of thoughtful, aesthetically pleasing wall art can significantly enhance the ambiance of your property, and it doesn't have to break the bank.
We will provide guidance on key factors to consider when selecting wall art and recommend a few affordable options available on Amazon. These budget-friendly choices of wall decor will infuse an element of luxury into your Airbnb.
Guidelines for Selecting Your Wall Decor:
The artwork you select should harmonize with your Airbnb's aesthetic and local surroundings. The artistic elements for a rustic cabin will greatly differ from those suitable for a contemporary penthouse. Here are some key considerations for your wall decor:
Harmonize with Your Space
Your chosen art pieces should blend seamlessly with your living space rather than overpower it. Bear in mind the size of your wall space and whether a grand or modest piece would better suit the ambience you aim to cultivate.
Position your art at a height that isn't too high or low, typically just slightly above eye level. If you're arranging a collection of prints, varying the height can add dynamism and create a stylish gallery wall. Consider utilizing small spaces in your Airbnb, such as bathrooms or laundry rooms, for additional artwork.
Stay Away from Controversial Themes
While everyone's taste varies, it's important not to confuse personal taste with potential offense. It's advised to steer clear of nude art, political caricatures, and religious imagery to accommodate a diverse range of guests.
Embody Local Flavor
Consider integrating art that symbolizes your local area. A depiction of the Manhattan skyline may be fitting in New York, but it might seem out of place in a Nebraska dwelling. Local artists may offer unique and fitting pieces, and even give guests the opportunity to purchase a piece as a keepsake.
Consistency in Color and Theme
Maintain a consistent color scheme or theme throughout your Airbnb to ensure a harmonious journey for your guests. Loud prints or alternating colors can be jarring and unsettling.
Solicit Opinions
If you're uncertain about your art selection, don't hesitate to ask friends or family for their insights. Explore other Airbnb listings online to gather inspiration and learn what other hosts are incorporating.
Prudent Spending
Avoid overpopulating your walls; a few impactful pieces can be more effective than an overcrowded array. Creating a luxurious feel doesn't require excessive spending.
Suggestions for Wall Art
In today's world, there's no need for exhaustive searches at garage sales or galleries to find suitable wall art. Amazon offers an abundant selection. Here are a few of our top picks:
1. Lake Landscape with Birds in Flight
This canvas piece, measuring 24×24 inches, captures the picturesque beauty of a lake under a sunset with a bird flying over a tropical island pier. It is a compelling sight that can make guests feel instantly at ease and welcome.
2. Sunlit Forest Scene
The foggy forest scene can create a soothing and tranquil ambiance, which can make your guests feel relaxed and comfortable during their stay.
3. Vibrant Abstract Art
This piece features an abstract silver metal figure on a black and white canvas, bringing an element of stylish elegance and sophistication to your space. This can create a visually appealing environment for your guests.
4. Landscape Oil Painting River In Autumn Forest
This artwork, a reproduction of an oil painting, depicts a river flowing through an autumn forest. Its rich colors and detailed portrayal can make your space more visually engaging and welcoming for guests.
5. Floral Watercolor Paintings
This watercolor botanical artwork, with its floral design and gold leaf branches, adds a touch of sophistication and elegance to your space. Its subtle charm can significantly enhance your Airbnb's aesthetic appeal.
Watercolor Floral Green Gold Leaf Branches Botanical Wall Art Canvas Paintings Poster Print Pictures For Living Room Home Decor-42x60cmx3 No frame
◆HIGH QUALITY PRESENTATION:HD Giclee canvas Printing Picture printed on high quality polyester canvas ,using environmentally friendly materials, high-definition printing on high-quality canvas, waterproof, UV protection and indoor fade.

◆TYPE:Canvas art paintings are frameless, leaving a white border of 3-5 cm. We use the advanced and excellent canvas printing technology so that can enjoy your art with brilliant color for years.

◆CREATIVE INTERIOR WALL DECOR GIFT:Our Canvas Poster are uniquely made.Poster Prints artwork will definitely create the right home accent you want,a great idea for home interior wall decoration, you can hang these canvas art in the living room, bedroom, kitchen, bathroom, guest room, office or more plac
6. Mountain Abstract Decor
This three-piece geometric mountain print offers a striking yet sophisticated visual display. The combination of mountainous scenery and geometric patterns creates a unique and appealing look that can add interest to your space.
3 Piece Mountain Wall art, Geometric Mountain Pictures Print on Canvas , Modern Abstract Geometric Wall Decor , for Living Room Bedroom Home Office Kitchen Room Decor,12x16in
Mountain Wall Art Size :Each Canvas Panel is 12Wx16H , Total 3 Panels(overall Size 36W X 16H ).

Farmhouse Wall Decor:Good for Living Room,boys or girls bedroom,Bathroom,Bedroom,Classroom,Dining Room,Dormitory ,Home Office, Kids Room,Kitchen,Laundry Room,Office,Hotel,Restaurant,Bar,Family Room, Man Cave, Dorm, Apartment, Bar, Baby Nursery,e
7. Impressionist Mountains and Valleys
This abstract nature-themed print, with its depiction of a mountain sunset and forest wilderness, adds a stylish and contemporary touch to your Airbnb. The vibrant colors and imaginative representation can captivate your guests and enhance the visual appeal of your space.
GENTLE DEER Wall Art Framed Crystal Porcelain Prints Wall Decor Wall Pictures for Living Room Office Dining Room Artwork Reproduction Ready to Hang (12" x 16" Black, 760301)
Crystal Porcelain Wall Art: The surface material of wall art is made of 5H tempered crystal porcelain, which is transparent, delicate and highly restored the color of painting print. In addition, it can protect the HD giclee print from water, dust and moisture. It is easy to maintain and keeping it clean. The black frame of painting print is made of durable and shrink-resistant material, which is not easy to deform, so you can keep it for a long time.

Ready to Hang: We provide free professional hooks and hanging accessories, you can hang it where you like. Such as living room, bedroom, office, hotel, bathroom, dining room, kitchen, bar, etc. It is very suitable for decorating your interior walls, ready to ha
You may also like:
Crucial Bathroom Supplies for Your Airbnb: The Ultimate Shopping List
Airbnb Shopping List – Kitchen Essentials
Boost Your Airbnb Success with AI-Generated Property Titles and Descriptions