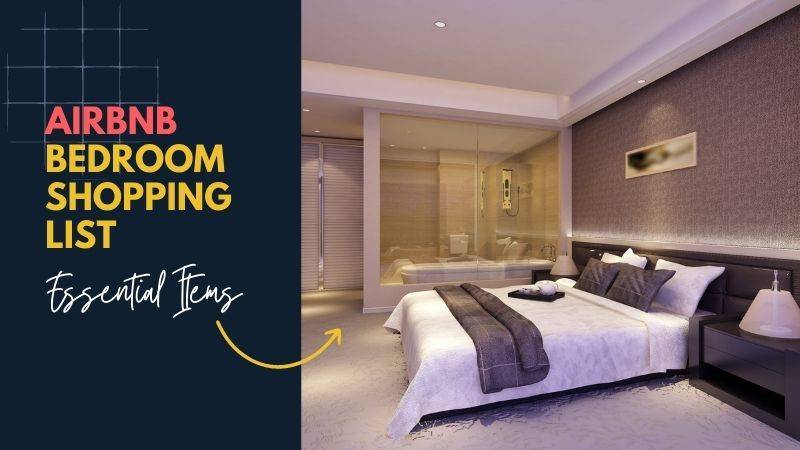 As an Airbnb superhost, you want to make sure each bedroom in your short-term rental is fully equipped for your guests' comfort.
To ensure a great experience, keep in mind these essential items when preparing your bedrooms.
Our checklist of bedroom essentials will help make your shopping quick and easy.
Must-Have Items for Your Airbnb Bedroom: A Checklist of Essentials
Premium Bedding for a Luxurious Airbnb Bedroom Experience
As an experienced Airbnb superhost, I know that providing high-quality bedding is crucial for a comfortable stay in your short-term rental. Even the best mattress can feel uncomfortable if the sheets aren't up to par.
That's why I highly recommend investing in these affordable, durable, and comfortable sheet sets.
They are a true bedroom essential that will ensure your guests get a good night's sleep and leave rave reviews about their stay.
Mattress Protector
As an Airbnb host, investing in a quality mattress protector can bring multiple benefits. In addition to protecting your mattress from stains and damage caused by guests, it can also safeguard against bed bugs.
This mattress protector is not only waterproof, but also dust-mite-proof and bed-bug-proof, ensuring a hygienic and comfortable sleeping environment for your guests. Remember to also use protectors for the box spring, as these can easily become infested with bed bugs.
Extra Pillows
You're likely aware of how essential quality pillows are for a good night's sleep. To accommodate your guests' preferences, it's a good idea to keep 2-3 extra pillows in the closet of each bedroom.
While some guests may be comfortable with 1 or 2 pillows, many others prefer to sleep with more. By providing extra pillows, you can ensure your guests have a comfortable and personalized sleep experience during their stay.
Extra Blankets
Additional blankets are essential. Based on your region's weather, you might prefer a lighter alternative or a more practical, robust choice. Regardless, guests have consistently appreciated the availability of cozy blankets for added nighttime warmth or cozying up on the sofa. These blankets are not only lightweight but also come in a variety of hues to suit any color palette.
Luggage Racks
While a luggage rack might appear to be a discretionary item, it is indeed a crucial element for a bedroom. It not only offers guests a designated area for their bags but also aids in preventing bed bug infestations by keeping suitcases separate from bedding.
Hangers
Hangers are valued by guests, particularly for longer stays. Opting for wooden hangers over plastic ones may be more appealing to some visitors. Providing around twenty hangers per room is sufficient.
Moreover, hangers are a prerequisite for a Work Collection-eligible listing, which could potentially boost your search rankings.
Ironing Board
An ironing board is a fundamental item for bedrooms; however, a compact version will suffice. This portable, tabletop ironing board is convenient and simple to store, making it an ideal choice for holiday accommodations.
Iron
In vacation rentals, having an easy-to-use iron is essential. We recommend this particular model, which includes an automatic shut-off function. Don't overlook this item, as an iron is a necessary component for a Work Collection listing.
Pillow Protectors
Elevate your Airbnb bedroom experience with our essential Pillow Protectors. Ensure your guests enjoy a comfortable, clean, and healthy sleep environment with this must-have addition to your Airbnb bedroom.
Duvet
Upgrade your Airbnb bedroom with our sumptuous Duvet, a key essential for providing guests with ultimate comfort and warmth. Create a welcoming atmosphere and leave a lasting impression on your guests with this elegant bedroom addition.
Bed side lamps
Enhance your Airbnb bedroom with our stylish Bedside Lamps, perfect for creating a warm and inviting ambiance. Set the stage for a memorable stay by adding these elegant and functional accents to your space.
Bed side Alarm clock
Discover the convenience and style of Bedside Alarm Clock, designed to complement any bedroom décor.
Bedside Rug
Elevate your Airbnb with our cozy Bedside Rug, providing guests with a warm, plush surface for added comfort. Available in diverse colors and patterns, rug complements any bedroom decor, making their stay even more memorable.
Dresser
Enhance your Airbnb with a spacious Dresser, offering guests ample storage for their belongings. With a stylish design and functional layout, this essential piece ensures a convenient, clutter-free stay for a more enjoyable experience.
Full-length mirror
Add a touch of elegance to your Airbnb with a Full-Length Mirror, allowing guests to effortlessly prepare for the day ahead. This practical essential enhances the room's aesthetics while providing convenience and a sense of spaciousness.
Duvet Cover
Boost your Airbnb's appeal with a high-quality Duvet Cover, ensuring guests enjoy a warm, cozy, and restful sleep. Available in various designs, this bedroom essential adds a touch of sophistication while providing optimal comfort.
Conclusion:
By including essential items such as a comfortable mattress, high-quality bedding, ample storage, functional lighting, and thoughtful amenities, you will create a space that caters to the needs and preferences of a diverse range of travelers.
A well-equipped and welcoming bedroom not only contributes to positive reviews and repeat bookings but also helps you stand out in the competitive world of short-term rentals.
By investing time and resources into crafting the perfect Airbnb bedroom, you are setting yourself up for long-term success and guest satisfaction.
You may also like,