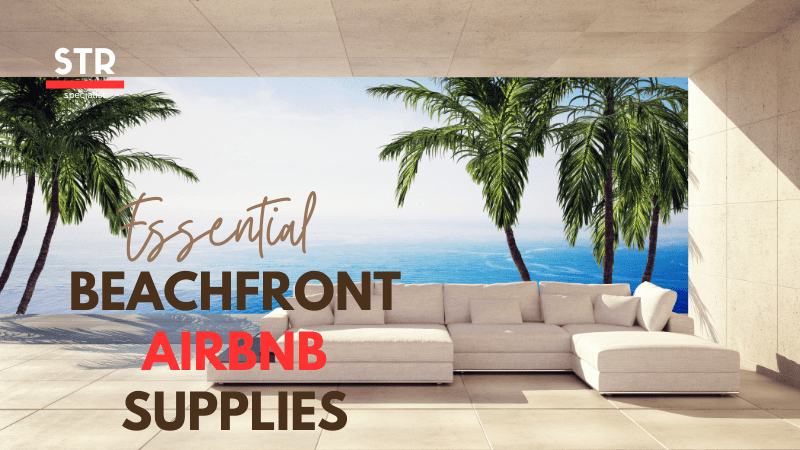 In the competitive world of vacation rentals, it's crucial to make your beachfront Airbnb truly shine. With beach stays offering leisure and unforgettable moments, guests scrutinize these properties with high expectations.
Elevate your guests' experience by providing essential supplies and amenities that will set your rental apart. Discover the top eight supplies you need for your beachfront Airbnb to guarantee a memorable and enjoyable stay for your valued guests.
1.  Beach-Themed Furnishings
Immerse your guests in a beach-like experience by selecting vibrant and colorful amenities and ornaments. For instance, consider incorporating sea-themed wall decor that evokes the serenity and coastal allure of a beach vacation.
Embrace shades of blue, green, beige, or white to create a calming effect and infuse your space with seaside vibes. Let your beachfront Airbnb become an oasis of relaxation, captivating guests with its inviting coastal ambiance.
2. Natural Fiber Floor Mats
Elevate your beachfront Airbnb with the SAFAVIEH Natural Fiber Collection Runner Rug. Handmade with premium jute fibers, this 2′ x 8′ rug adds coastal charm and durability. Its chunky textured design and 0.75-inch thickness create a cozy and inviting atmosphere.
The rug's stain-resistant nature makes it ideal for sandy environments. Enhance your guests' experience with this stylish and practical addition to your beachfront retreat.
3. Picnic Basket
Enhance your beachfront Airbnb experience with the Wicker Picnic Basket. Its sturdy woven body, complete with a lid and handle, adds a touch of rustic charm. The washable lining ensures easy maintenance and cleanliness.
Perfect for beach picnics or leisurely outdoor dining, this basket combines functionality with timeless style, providing your guests with a convenient and delightful way to enjoy their meals by the seaside.
4. Foldable Outdoor Chairs
Create the ultimate beachfront relaxation spot with the Amazon Basics Textilene Outdoor Adjustable Zero Gravity Folding Reclining Lounge Chair. This pack of two chairs in vibrant red includes a side table and pillow for added comfort.
The adjustable reclining feature allows your guests to find their perfect lounging position. Crafted with durable Textilene fabric, these chairs are built to withstand outdoor elements. Treat your guests to a luxurious and stylish beachfront experience with these premium lounge chairs.

5. Shade Umbrella
Ensure optimal sun protection and comfort for your guests at your beachfront Airbnb with the Wondershade Ultimate Portable Sun Shade Umbrella in Pink. This lightweight and adjustable umbrella provides instant shade, allowing your guests to relax and enjoy the beach without worrying about harmful sun exposure.
Its portable design makes it easy to set up and move around, while the vibrant pink color adds a touch of fun and style to the outdoor space. Elevate your guests' beach experience with this essential sun shade umbrella for ultimate relaxation and sun protection.
6. Tiki Torches
Transform your beachfront Airbnb's outdoor space with TomCare Solar Lights Upgraded. These 43″ waterproof torches lights feature flickering flames created by 96 LED bulbs, providing a mesmerizing and realistic flame effect.
Perfect for gardens, patios, yards, and even Christmas decorations, these pathway lights automatically turn on/off, utilizing solar power for eco-friendly and hassle-free operation.
The sleek black design adds a touch of sophistication to your landscape, enhancing the ambiance and creating a warm and inviting atmosphere for your guests to enjoy during their beachfront getaway. Available in a set of four, these solar lights are a must-have for outdoor decoration and lighting.
7. VacLife Handheld Vacuum
Keep your beachfront Airbnb spotless with the VacLife Handheld Vacuum Cleaner. This compact and powerful vacuum is designed to tackle dirt, sand, and debris with ease. With its cordless and lightweight design, it offers convenient maneuverability for cleaning every nook and cranny.
The vacuum includes versatile attachments to reach tight spaces and upholstery. The rechargeable battery ensures long-lasting cleaning sessions, and the easy-to-empty dust cup makes maintenance a breeze.
Elevate your cleaning routine and provide a pristine environment for your guests with the VacLife Handheld Vacuum Cleaner.
8. Hair Dryer
Get salon-quality results with the Ionic Salon Hair Dryer. This powerful and lightweight hair dryer offers advanced ionic technology and adjustable settings for fast and efficient drying. Elevate your guests' hairstyling experience with this professional-grade hair dryer.
You may also like;
Crucial Bathroom Supplies for Your Airbnb: The Ultimate Shopping List
Top 25 List of Must-Have Airbnb Products Under $25