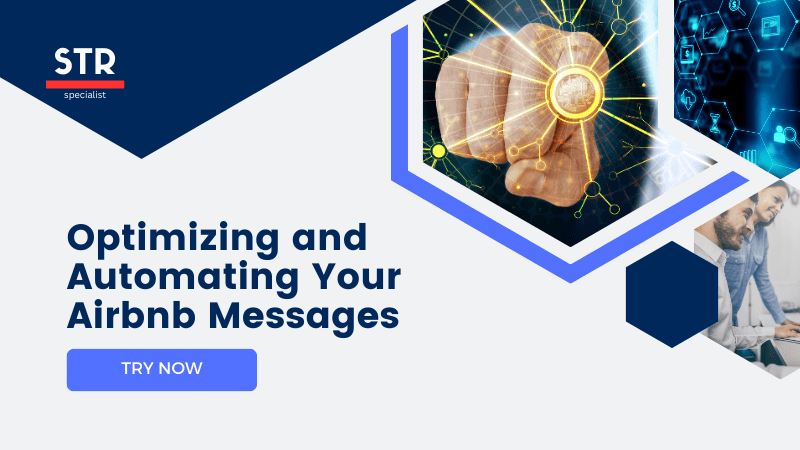 Introduction:
In the world of Airbnb hosting, communication is key. But how can you strike the perfect balance between providing guests with necessary information and overwhelming them with messages?
The answer lies in optimizing and automating your Airbnb messages. In this comprehensive guide, we'll walk you through the process, from understanding the Airbnb reservation flow to crafting an efficient message flow. Let's dive in!
1. Efficient Communication
1.1 Only Communicate What's Essential
When it comes to Airbnb messaging, less is often more. Guests appreciate clear and concise information. Avoid long-winded messages that can be overwhelming. Instead, focus on delivering the information guests need most.
1.2 The 100-Word Rule
Keep your messages short and to the point. Aim for messages that are no longer than 100 words, especially when conveying straightforward information like check-in instructions or house rules.
1.3 Electronic Guidebook Necessity
Creating an electronic guidebook for your Airbnb property is crucial. This guidebook will serve as a centralized resource for guests to access important information about their stay. Consider using platforms like Hostfully or Coral to craft your guidebook.
2. Turning Off Automated Messages
2.1 Reacting to Guest Experiences
Sometimes, despite our best efforts, we may encounter challenging guests or situations. In such cases, don't forget to turn off your automated messages, including review reminders. This ensures you have full control over what is communicated to the guest.
2.2 The "Go to Jail" Card
Sending excessively long messages can lead to guest frustration. Imagine receiving a check-in message that spans over 500 words! Such messages can be daunting and counterproductive.
"Dear [Guest],
we are thrilled to have you staying at our property. Our cozy home is conveniently located near the city center, offering easy access to all the attractions.
We have a comfortable living room, a spacious kitchen, a beautiful garden, and much more to make your stay memorable.
Please remember to follow the house rules, which include no smoking indoors, keeping noise levels down after 10 PM, and ensuring all windows and doors are locked when you leave the property.
We also have a well-equipped kitchen, so feel free to whip up your favorite meals. If you have any questions, don't hesitate to reach out. We hope you have a fantastic stay!"
Understanding the Airbnb Reservation Flow
3. Airbnb Reservation Flow
3.1 Predictable Patterns
Understanding the typical flow of Airbnb reservations is essential. Once you grasp this natural progression, you can create and optimize a set of messages for Airbnb message automation, saving you a significant amount of time that would otherwise be spent crafting individual messages.
3.2 Increased Efficiency
Implementing an Airbnb message automation strategy can reduce the time you spend responding to guests. You'll find that you only need to address specific questions that only a handful of guests ask, streamlining your hosting process.
3.3 Pro Tips for Handling Discount Requests
Occasionally, guests may request a discount. While it's essential to be accommodating, especially during slow seasons, you can establish a system to manage these requests efficiently. For instance, if the calendar is open one week before the requested dates, you can honor the discount.
Guest: "Hi, I noticed your property and was wondering if there's any chance of a discount for my stay."
Host: "Thank you for considering our property. Currently, our rates are as listed, but I encourage you to check back with me one week before your requested dates. If the calendar remains open, I'll be happy to offer you a discount. We look forward to hosting you!"
Crafting an Effective Message Flow
4. Initial Booking Inquiry
4.1 Acknowledgment and Prompt Response
When a potential guest sends an initial booking inquiry, it's crucial to acknowledge receipt immediately. Even if you can't provide a full response right away, letting them know you'll address their questions shortly can create a positive impression.
4.2 Personal Touch
Maintain a personal touch in your responses. Airbnb guests often appreciate the personal connection they receive from hosts, differentiating the experience from a standard hotel stay.
Guest: "Hello, I'm interested in booking your property for my upcoming trip. Can you provide more information?"
Host: "Hi there! Thank you for considering our property for your stay. We've received your inquiry and will get back to you shortly with all the details you need. Feel free to let us know if you have any specific questions or preferences. We look forward to hosting you!"
5. Request to Book
5.1 Handling Booking Requests
When a guest submits a booking request, especially if you don't have Instant Book (IB) enabled or if specific criteria need verification (e.g., verified ID or previous positive reviews), you'll need to approve or deny each request individually.
5.2 Prompt Confirmation
Your response to booking requests should be similar to your initial inquiry acknowledgment. Confirm the availability and let the guest know that you'll provide a more detailed response shortly.
Guest: "I'd like to book your property for my upcoming trip. Can you confirm the dates are available?"
Host: "Hello! We've received your booking request, and we're thrilled to have you as our guest. We'll check the availability for your requested dates and provide you with a confirmation shortly. If you have any specific preferences or questions, please feel free to share them with us. We're here to ensure you have a fantastic stay!"
6. Booking Confirmation
6.1 Welcoming Your Guests
Upon confirming a booking, it's essential to make your guests feel welcome. Send them a message expressing your gratitude and outlining your plans for their upcoming stay.
6.2 Personal Touch Matters
While your confirmation message can be automated, adding a personal touch by mentioning that you read every message can enhance the guest-host relationship.
Guest: "My booking has been confirmed. What should I expect next?"
Host: "Hi [Guest's Name],
and thanks for your reservation! We're excited to host you during your upcoming stay. As part of our commitment to making your stay exceptional, we'll reach out to you three days before your arrival to ensure everything is in order and provide you with some additional instructions to ensure a smooth check-in process.
Please note that this message is automated, but rest assured that we read every message and will address any questions or concerns you may have shortly. We look forward to welcoming you!"
7. Check-In Information
7.1 Timing Is Key
Four days before your guests' arrival, it's essential to send a check-in message with all relevant information. This proactive approach can help prevent a flurry of questions from guests in the days leading up to their stay.
7.2 The Guidebook Link
In your check-in message, provide a link to your electronic guidebook, which should contain comprehensive details about your property, including house rules, Wi-Fi access, and any other essential information.
Guest: "I'm looking forward to my stay. When will I receive check-in information?"
Host: "Hi [Guest's Name], your stay is just around the corner, and we want to ensure it's seamless. Four days before your arrival, you'll receive a check-in message with all the information you need.
In the meantime, you can explore our electronic guidebook, which contains detailed information about our property, including check-in procedures, house rules, and local recommendations. If you have any immediate questions or preferences, feel free to share them with us. We're here to make your stay exceptional!"
8. Post-Check-In Message
8.1 Checking In on Your Guests
The day after your guests' check-in, send them a message to inquire about their arrival experience. This allows you to address any concerns in real-time, ultimately aiming for a 5-star Airbnb review.
8.2 Guest Responsiveness
Keep in mind that not all guests will respond to this message. Some may be settling in, while others might have minimal questions. However, this message sets the stage for open communication.
Host: "Hello [Guest's Name],
We hope you've settled in comfortably. We'd love to hear about your arrival experience and address any questions or concerns you might have.
Your feedback is essential to us as we strive to ensure your stay is nothing short of exceptional. Please don't hesitate to reach out. We're here to make your stay memorable!"
9. Pre Check-Out Message
9.1 Reminding Guests of Check-Out Details
The day before check-out, send a friendly reminder to your guests regarding the check-out time and any essential specifics they should be aware of. Repeating crucial information can save guests time.
9.2 Reiterating Expectations
This is also an excellent opportunity to express your hope that their stay has been of 5-star quality, subtly setting the expectation for a positive review.
Host: "Hi [Guest's Name],
As your stay with us is coming to an end, we wanted to remind you that check-out is at [Check-Out Time].
We hope you've had a fantastic time here. If you have any last-minute questions or need assistance with anything, please feel free to reach out. We genuinely appreciate your stay and hope it has been a 5-star experience. Safe travels!"
10. Post Check-Out Message
10.1 The Most Important Message
The post check-out message is arguably the most critical. It can significantly influence the reviews you receive. Sending this message three hours after the scheduled check-out time allows you to express your appreciation, regardless of how the guest left the property.
10.2 Crafting Expectations
By thanking the guest for leaving the place in good shape, you're subtly suggesting that they've earned a positive review. This message is sent before the guest has the chance to leave a review, aiming to leave a positive impression.
Host: "Hi [Guest's Name],
We wanted to extend our heartfelt thanks for choosing to stay at our property. We appreciate your responsible and respectful approach during your stay. Your efforts in leaving the place in good shape haven't gone unnoticed.
This message goes out regardless of how the guest actually left the space because we genuinely value every guest's experience. We never attempt to charge extra cleaning fees except in the most extreme scenarios. With this message, we're setting the expectations for a positive review. Safe travels!"
11. Review Reminder
11.1 Encouraging Guest Reviews
If a guest has not already left a review, consider sending a gentle reminder to do so. Most property management systems are intuitive enough not to send this message if a review has already been submitted.
11.2 Respectful Persistence
Keep in mind that not all guests leave reviews. However, it's crucial not to pester guests with this message, especially if their stay wasn't entirely positive.
Host: "Hello [Guest's Name],
We hope you had a wonderful time during your stay. We'd like to kindly remind you to share your experience with us by leaving a review.
Your feedback helps us continually improve and ensures that future guests have a clear understanding of what to expect. We appreciate your time and support in reviewing your stay!"
12. Friends & Family Discount Offer
12.1 Boosting Occupancy During Slow Seasons
To increase occupancy during off-peak seasons, consider extending a special offer to prior guests and their friends and family. However, remember to turn off this message if you've had an unpleasant experience with the guest.
12.2 Tailoring Offers
If your area doesn't have distinct busy and slow seasons, you can customize the discount offer for midweek stays or longer-than-average bookings.
Host: "Hello! We hope you enjoyed your previous stay with us. As a token of our appreciation, we're extending an exclusive offer to you, your friends, and your family.
It's our way of saying thank you for being a valued guest. Feel free to reach out if you'd like to take advantage of this special offer. We look forward to hosting you again!"
Essential Tools for Airbnb Automation
13. Creating an Electronic Guidebook
13.1 The Importance of a Guidebook
Before diving into message automation, create a comprehensive electronic guidebook. This digital resource serves as a one-stop destination for guests to access essential information about your property.
13.2 Platforms like Hostfully
Platforms like Hostfully or Coral can help you create a professional guidebook that covers everything from check-in procedures to local recommendations.
14. Selecting a Property Management System (PMS)
14.1 Smartbnb Recommendation
To streamline your message automation efforts, sign up for a Property Management System (PMS) like Smartbnb. PMS systems allow you to send automated messages and manage reservations efficiently.
15. Crafting Your Message Flow
15.1 Guideline for Message Creation
While we've covered the essential messages you should automate, it's essential to craft these messages with your unique property and style in mind. A guideline for message creation is provided, but you're encouraged to personalize your messages to create a more genuine connection with your guests.
16. Additional Resources
16.1 Airbnb Message Flow Strategy & Templates
If you prefer to have pre-written message templates, consider purchasing a resource like "Airbnb Message Flow Strategy & Templates." Use code "OptimizeBook" for a 50% discount.
Conclusion
In the world of Airbnb hosting, efficiency and guest satisfaction are paramount. By implementing an Airbnb message automation strategy and following the guidelines outlined in this comprehensive guide, you can optimize your hosting experience, save time, and ensure your guests have a seamless and enjoyable stay. Remember, clear and concise communication is the key to success in the sharing economy. Happy hosting!
Author's Note
If you found this guide helpful, please consider leaving a review to support our efforts in providing valuable content to the Airbnb hosting community. Your feedback is greatly appreciated!
You may also like to read;