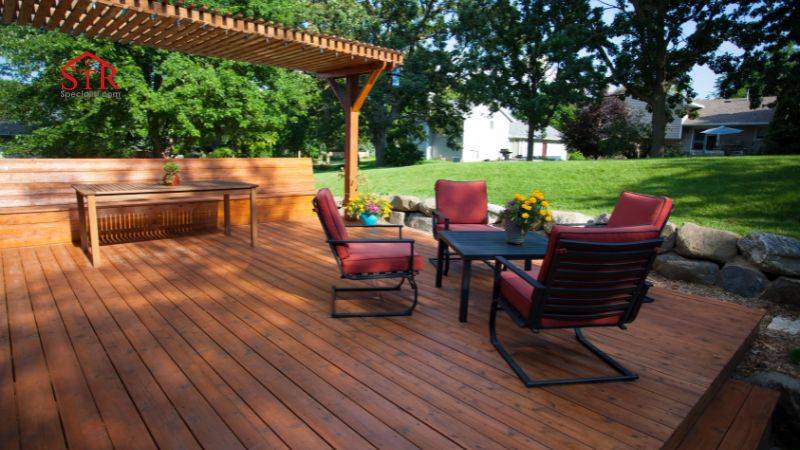 As an Airbnb host, having a deck as part of your property can certainly earn you additional appreciation from your guests. By incorporating these deck features as a vital part of your guest experience, you can significantly enhance both your deck and hosting standards.
This can potentially lead to better reviews and ideally, a consistently busy season throughout the year. Here are eight fantastic deck features for your Airbnb that can help elevate your deck's appeal and leave your guests in awe.
1. Char-Griller E3001 Grillin' Pro 40,800-BTU Gas Grill
A deck isn't quite complete without a high-quality barbeque grill. Picture your guests savoring warm summer evenings while barbequing on the Char-Griller E3001 Grillin' Pro gas grill. 
This grill not only facilitates easy cooking of various types of meat, but its stylish design also adds to the appeal.
This grill is budget-friendly, and your guests are sure to appreciate its excellent quality, robustness, convenience, and the following notable features:
A spacious grilling area of 438 square inches


Includes a side burner and a warming rack


Easy-to-use ignition and flame control dials


Temperature regulation for perfectly cooked steak


Sturdy steel body with a matte black finish


Relatively simple to assemble and clean
However, the grill's body is susceptible to rust. Ensure you invest in a grill cover and instruct your guests to cover the grill after every use to maintain its longevity.
2. Outland Firebowl Outdoor Portable Propane Gas Fire Pit
Adding a fire feature to your deck can elevate its attractiveness significantly. Consider incorporating the Outland Firebowl 893 Deluxe Outdoor Portable Propane Gas Fire Pit.

With this feature, your deck becomes a year-round gathering spot, demonstrating the versatility of your Airbnb space.
Powered by propane gas for a clean, smokeless experience


Delivers an authentic campfire aesthetic


Compact and portable design for convenience and space efficiency


Comes fully equipped with a pre-attached hose for your propane tank, a Carry and Cover Kit, an adjustable regulator for the flames, and numerous additional accessories


Durably built with a steel body finished with a protective enamel covering
Though it lacks the traditional crackling fire sound and doesn't produce a roaring fire, this pit creates a cozy atmosphere.
3. Honeywell Belmar 52-Inch Indoor/Outdoor Ceiling Fan
For those with a covered deck, a ceiling fan is a great feature to maintain a cool environment on warm evenings and keep insects at bay.
The Honeywell Belmar ceiling fan is perfect for medium and large spaces, coming with a limited lifetime manufacturer warranty. Its sleek, modern appearance is a fit for pergolas and gazebos, offering features such as:
Elegant design


A quiet, all-season multi-directional motor


Ease of control via pull chains or a remote


Appropriate-sized blades for deck spaces
However, the fan only offers one speed.
4. NEW RUICHENG Artificial Plant
Incorporating artificial potted plants can impress nature enthusiasts among your guests. We recommend the hassle-free New Ruicheng Artificial plant.
Constructed from eco-friendly material


Requires minimal maintenance


Comes in a variety of three different plants
5. QACA 20 Pack LED Stair Lights Kit Low Voltage Landscape Lights
Enhancing your outdoor space with deck lights will boost both its functionality and visual appeal. The selected LED lights are energy-efficient and highly beneficial for your deck. Their primary features include:
Modern half-moon design


Waterproof and dust-resistant


Low-voltage light for a cozy ambiance
6. AuKing Mini Projector 2023 Upgraded Portable Video-Projector
Consider offering an outdoor movie experience to your guests with this popular mini-projector, suitable for big or small projector screens.
Exceptional viewing experience with LED lighting


Multimedia compatibility with devices like phones, laptops, or TVs


Offers a viewing experience ranging from 32″ up to 170″ without sacrificing quality
Though this projector is affordable, it's not top-of-the-line. However, it's sufficient for guests who enjoy the outdoors.
7. SMART DESIGN MAT SMM005 Reversible Indoor/Outdoor Plastic Rugs
An area rug on your deck can give it an indoors-like appeal. The Smart Design Mat is our recommendation.
Easy to relocate, especially during cleaning


Resistant to elements like rain and sunshine


Reversible


Soft and easy to clean
8. Polk Audio Atrium 4 Outdoor Speakers
If your Airbnb permits outdoor parties or loud music, equip your guests with Polk Audio outdoor speakers. Ideal for all seasons, these speakers can withstand extreme weather conditions. Position them on an outdoor wall or hidden in a corner for guests to enjoy music outdoors.
Powerful bass


Superior sound distribution


Easy installation on the wall with a robust and straightforward one-click wall mounting bracket
While the speakers deliver strong bass, they won't produce a disruptive rumbling experience. Most users rate the sound quality a 4/5 considering its size.
In Conclusion
Investing in your deck features is a strategic way to enhance your Airbnb appeal. Transform your home into a seasonal haven with a fire pit, a rug, or a pair of speakers to foster summertime enjoyment.
You may also like:
7 Strategies for Managing an Airbnb Without a Kitchen
Top 5 Products for Enhancing Energy Efficiency in Your Airbnb Rental