Airbnb Plus is a programme launched in Feb 2018, to recognise properties with hotel like attention to detail, exceptional quality, comfort and style.
This new brand targets travellers who are still not comfortable with the idea of staying in someone's home and who would actually prefer to stay in a hotel. Travelers who want a guarantee of good standards.
1. How is Airbnb Plus different?
2. How properties qualify for Airbnb Plus?
3. Benefits for travellers
4. Is it worth staying in a Plus home?​​
5. Benefits for hosts
6. Is Airbnb Plus worth the extra hassle for hosts?
1. How is Airbnb Plus Different?
For many travellers, finding the property with excellent standards was a challenge. Right from the start, Airbnb has struggled with a lack of quality control over the accommodations listed on its platform.
Additionally, there are also a large number of people who haven't tried Airbnb yet simply because they don't like a surprise and would instead take the well-trodden hotels for the holidays they have been planning for a long time.
With the introduction of Plus, Airbnb now has three tiers for properties:
a. Standard Airbnb Properties
b. Properties by Airbnb Superhosts
c. Airbnb Plus Properties
a. Standard Airbnb Properties
Identify: You won't see a Superhost tag next to the host profile photo or any other tag.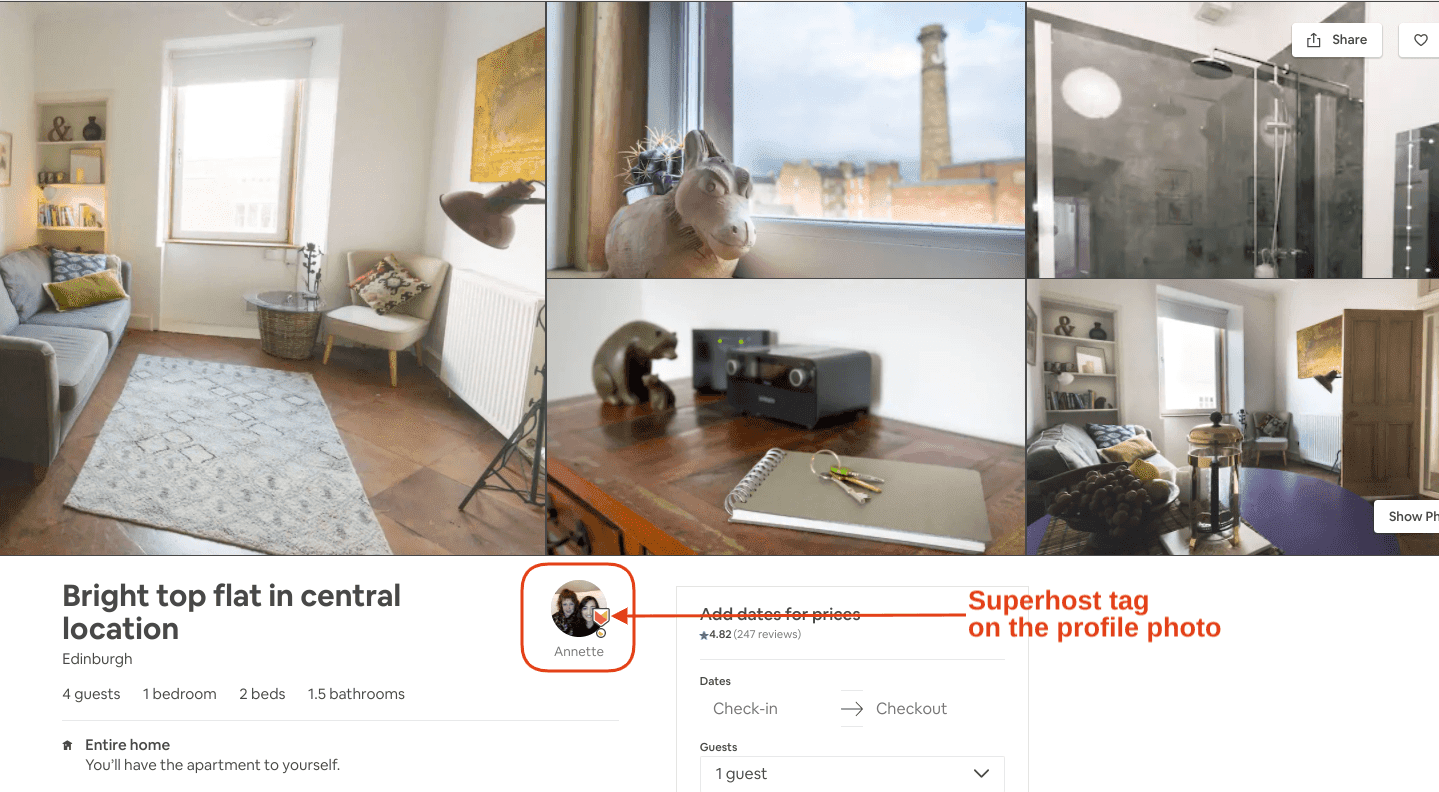 What are the standard Airbnb properties?
The number of reviews on a property can be the critical differentiator in this class: 
If a property has under 20 reviews, it is hosted by a new host who hasn't hosted long enough to qualify for the next tier, i.e. Superhost.


★ Book these listing with caution, read all recent reviews carefully.

If a property has 20+ reviews – it is either not let out full time, OR the host has not been able to meet qualifying criteria for Superhosts.


★ If it is the later, avoid booking such listings at all times.
b. Property by a Airbnb Superhost
Identify: You will find a Superhost tag on the profile image of the host.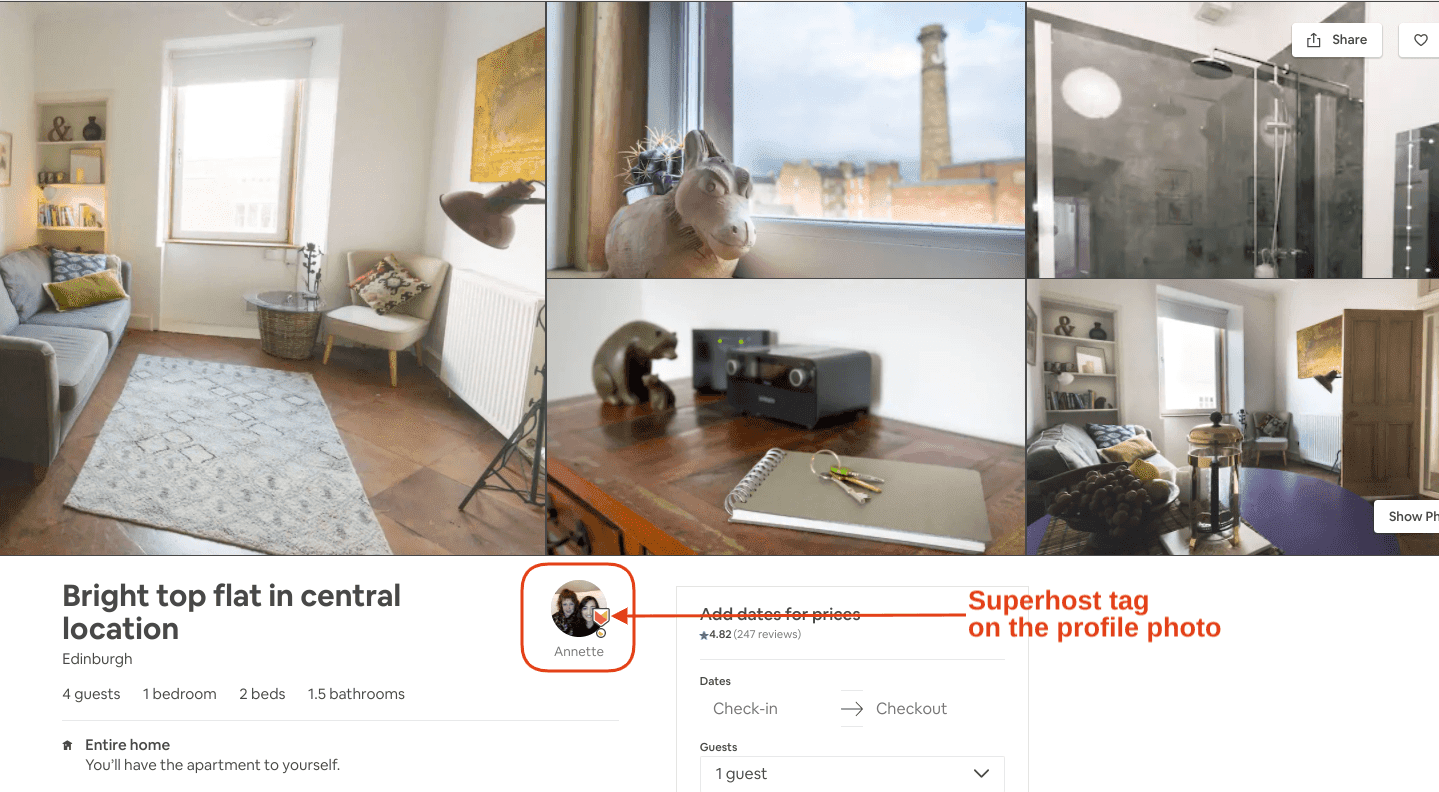 What are properties by Superhost?
Airbnb launched Superhost program in 2016 to reward the most devoted hosts with a special VIP status.
About 10% of hosts on Airbnb are awarded Superhost status and every three months checked if they've met the following criteria for the past year:
 4.8+ overall rating: To have a 4.8 or above-average overall rating based on reviews from Airbnb guests in the past year.

10+ stays: To have completed at least ten stays in the past year OR 100 nights over at least three completed stays (for long term bookings).

 <1% cancellation rate: They rarely cancel reservations unless there is an extenuating circumstance.

 90% response rate: They respond to 90% of the messages within 24 hours.
★ Booking with a Superhost gives the quality assurance BUT keep in mind Superhost status is given to the host, not the property and it may be a new property and not as good as the previous one which won him this elite status – check the reviews carefully.
c. Airbnb Plus Properties
Identify: Airbnb Plus listings have a different layout, they appear in the same search result screen but with a tag of Plus on top.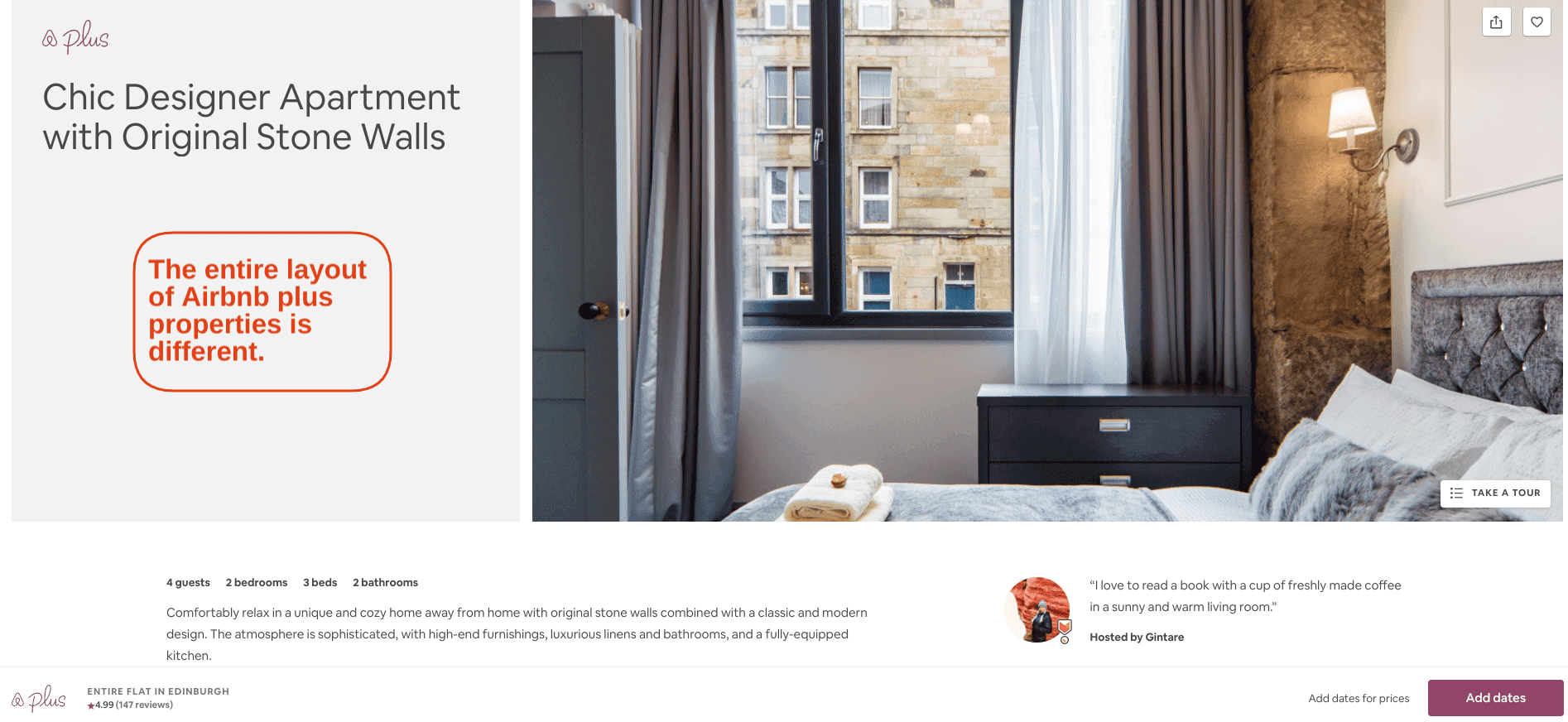 How is Airbnb Plus different from Superhost?
Superhost program recognises outstanding hosts for their hospitality and commitment.
Airbnb Plus recognises Home of Superhost that meet very high standards of quality and design.
★ Airbnb Plus properties are generally expensive than other listings as they maintain of comparatively higher standards. If one fits your budget, always try to go for a Plus property.
2. How properties qualify for Airbnb Plus?
To qualify for Airbnb Plus, the host must:
Additionally, the property offered must be:
Thoughtfully designed to show a unique style and personality
Well-equipped with amenities such as wifi, filter coffee and high-quality linens
Well looked after, extra clean and clutter-free
Every plus home is subjected to a 100+ point physical inspection along with a photography session by a specialist Airbnb photographer.
See the
property checklist
referred by Airbnb during the qualifying procedure.
Full list of the requirements for Airbnb Plus can be found
here
.
3. Benefits for travellers
The key benefit of Airbnb Plus for travellers is consistency, and you can expect a hotel-like amenities in the home.
Here are the other Airbnb Plus benefits for guests:
1.  Expect Hotel Quality
For people who prefer hotels, the high standards prescribed by Airbnb Plus make it possible for them to try Airbnb with confidence. You'll no longer have to worry about surprises, cleaning issues and differences in amenities between their favourite hotels and a Plus home.
2. High Standards
Plus home promises minimum standards and you don't have to worry about reading reviews to find out the standards of the property and rather just focus on what suits your taste and requirements.
3. Find Properties for Specific Occasions
Airbnb Plus makes it easier for you to find properties for specific occasions. Whether it is a honeymoon, family vacation or an active weekend in the outdoors.
4. Premium Customer Support
Guests using Airbnb Plus home to travel get access to premium support to resolve issues faster and it is easier to reach Airbnb customer services.
5. No Waiting For Approval
You no longer have to wait for the host to accept your reservation request, Airbnb Plus programs requires hosts to accepts almost all booking requests they get.
4. Is it worth staying in an Airbnb Plus home?
If it fits in your budget, Yes! 
For a premium, Airbnb Plus home gives you the assurance and confidence of staying in a quality accommodation which you don't get in Superhosted and Standard Airbnb listings.
1. Increase In Bookings
Airbnb Plus properties are placed in premium space on the website and appear higher in search results and means you will get more bookings.
2. More Trust
Airbnb Plus quality gives the assurance to guests that they don't have to work as hard to figure things out. As a result, you'll get more guests who will accept that you know what you're doing.
When guests know you're an expert at running an Airbnb accommodation they will be more relaxed and ask fewer questions.
3. You Can Charge More
Since you'll be one of the elite properties on the website, you can ask for the more nightly rate. 
Your expenses will be more to maintain the high standards expected by the program, but more travellers will be willing to pay a premium price for your property.
4. It Can Be A Burden (Negative) 
The elite status of Airbnb Plus properties also means guests will come with sky-high expectations and will be less kind to you if things are not right. 
That's is the biggest concern which is keeping away a lot of very experienced hosts from accepting the Airbnb Plus invite and they would instead focus on delivering to reasonable guest requests.
6. Is Airbnb Plus worth the extra hassle for hosts?
If your existing listing is doing just fine, don't bother!
You will feel like been dragged into a club where the further you get the harder it is, and the more you will feel they are trying to control you to change, to conform and be part of it.