Wheelhouse review by bnbspecialist.com
How automated Airbnb pricing can help you?
You may already know that the prices of air tickets and hotel rooms change over time. But did you know why?  It's because airline and hotels optimize their profits by using a simple technique.
What they do is they increase their prices when the demand is high and similarly decrease it when the demand gets low. Isn't this a smart business tactic?
Airbnb listings can use this tactic too. You can increase or decrease your prices according to the demand.
These changes in prices can create so much confusion as to how much you should charge. I mean how someone would know what the current prices are offered in the particular season and offer the best prices. 
Let's look at some options to assist you in managing your pricing structure.
You can do the cumbersome competitor analysis to design an attractive pricing model or hire professionals to do it, but that would add so much burden on your budget, especially if you run a small motel or rental hosting business. 
 This is where Airbnb pricing tools comes to your rescue. These convenient tools automate the whole pricing model for you without putting any extra effort or spending extra bucks on professionals. 
How Airbnb pricing tools work?
These innovative pricing tools use algorithms to calculate and design pricing modules for you by focusing on factors like seasons, flight demand, other hotels' availability and prices, vacation rental prices, day of the week, special events in the region, quality, and number your views, etc. 
These pricing tools set your calendar prices for the next 365 nights and keep updating them every 24 hours taking the factors mentioned above into account.
There are many different tools available in the market that uses their own set of algorithms to design a perfect pricing module for you. However, if I get to choose one best Airbnb pricing tools, it has to be Wheelhouse. Why? Let's do a quick Wheelhouse review.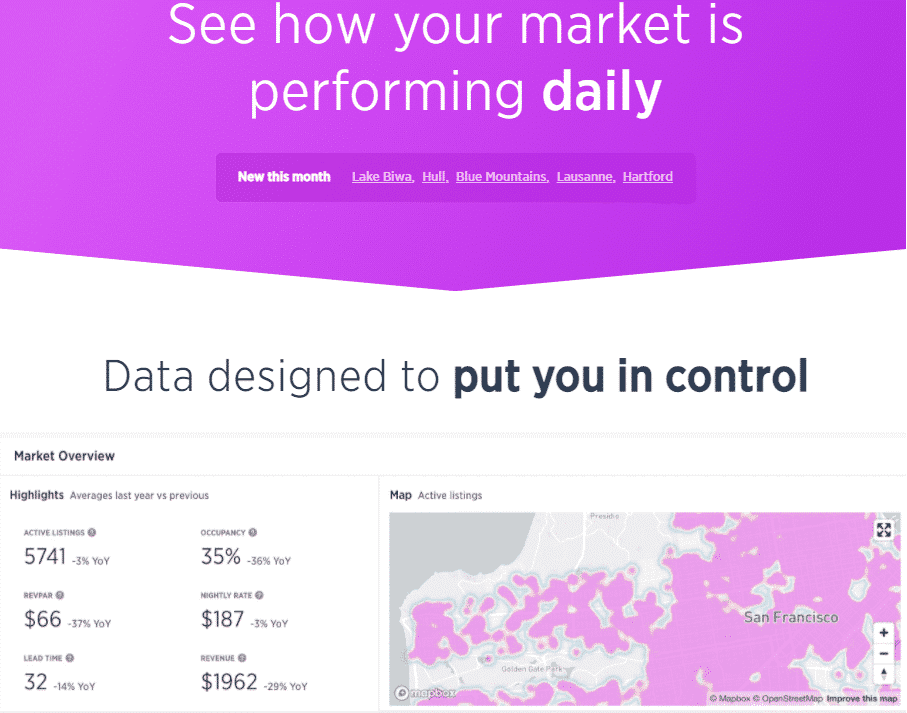 Wheelhouse is one of the dynamic pricing tools that help short-term rental property owners generate more revenue. Founded in 2014, Wheelhouse has been a massive growth since its inaugural due to its impeccable results.
Wheelhouse works with accurate data to provide perfect results. It has helped many small motels and rental owners increase their revenue up to 5 times. 
Now that's impressive!
Unlike the most conflicted Airbnb's Smart Pricing Tips that operate focusing on both visitors and hosts' gain, Wheelhouse works for the hosts exclusively.
How does Wheelhouse work?
Wheelhouse pricing software has constructed an impeccable and innovative program that crawls and records every listing in a particular area, from Airbnb but of Booking.com.
With this sophisticated data and smart algorithms, Wheelhouse's design optimizes your pricing model and suggests competitive prices for the next 12 months.
You can easily design 240+ pricing modules per year using Wheelhouse.
Getting started with Wheelhouse is ridiculously easy. 
The things that work are the things that work for me. This is why I choose Wheelhouse over any other Airbnb pricing software. With a clean, uncluttered, and simple to use interface, Wheelhouse is a breeze to use.
Just head over to Wheelhouse's official website, click on the 'Get started' option, and connect your listings. Now use the 'ON' option to start getting new optimized prices. 
2. Fine-tune your strategy
While Wheelhouse's recommendations are an excellent choice to start with, it also offers you an option to fine-tune your strategy, making it super customizable and super convenient to use.
3. Maximum and minimum prices
If the prices that are recommended by Wheelhouse doesn't hit your margin, you can always set it. You can adjust your minimum to maximum prices to generate the required pricing module.
Wheelhouse even offers you to manage your minimum stays just like the Airbnb dashboard.
You know your region and what is the predicted price over the weekends. If you think Wheelhouse's recommendation isn't the one you anticipated, then you can adjust it too according to your requirements.
Seasons are one of the significant factors that affect pricing. The seasonal adjustment option sets your range per the changing seasons and demand.
7. Monitor your performance
The whole point of investing in pricing software is to generate more revenue. Wheelhouse offers a 'performance' tab where you can monitor your performance and know the effectiveness of this software in boosting your business. 
Monitoring your performance can also help you fine-tune your campaign and make it more attractive to potential visitors.
8. Trip Advisor integration
Most people that use Airbnb also view the listings on Trip Advisor too. Wheelhouse syncs Airbnb and Trip Advisor's listings not to have to invest in separate price management apps for both.
This is a plus point for someone like me who wouldn't want to invest more than required on the pricing apps.
Did you know that Wheelhouse offers a 30-day free trial before signing up for a paid package? This was the first thing that made me try Wheelhouse, and after using the free-trail, I couldn't go back to my previous pricing app. It's because Wheelhouse charges only one per cent after the end of the trial period. 
Wait, there's a bonus. If you have more than ten listings, then this fee gets even more reduced to 0.75%. Now that's a win-win!
Wheelhouse Review: Pros and Cons
Wheelhouse is one software that helps many of the people involved in the short term renting (STR) services, be it Airbnb hosts, homeowners, vacation rentals or small motels, etc. 
It's easy to use interface makes it the handiest Airbnb pricing software. Anyone can use it who want to increase their business revenue.
You can customize your pricing based on individual rental.
Recommends revenue-shifting prices by using state-of-the-art algorithms managing technology.
Easiest Airbnb pricing software.
You can choose your base price by customizing base price strategies.
Gets updated every day, even after making price recommendation for the whole year.
Popular and well-reviewed pricing platform.
To reduced the cost to 0.75%, you should have to have at least ten listings. So, this discount won't be very fruitful for small hosts.
Wheelhouse cannot be operated by cell phone. You are required to login into the interface using computer for best experience.
Price can be on the higher side as compared to other Airbnb pricing software.
Wheelhouse integrates with TripAdvisor and Airbnb only but not with VBRO.

Overall, Wheelhouse is a pretty excellent Airbnb pricing tool, but there are some essential functions that Wheelhouse lacks. 

By analysing all of the plus and minus points of Wheelhouse, it earns 4.9/5 from my side.
Wheelhouse Review Summary
Wheelhouse is one of the most interesting Airbnb pricing software. The clean and straightforward to use interface has made it a choice of many. It suggests a sophisticated pricing module focusing on some crucial points and crawling through the local listings. 
It's one of the best dynamic pricing software that can help you generate significant Airbnb hosting revenue. The wheelhouse review will be incomplete without mentioning its excellent pricing structure and accurate results.
So, what are you waiting for? See wheelhouse pricing and get started to generate crazy revenue.