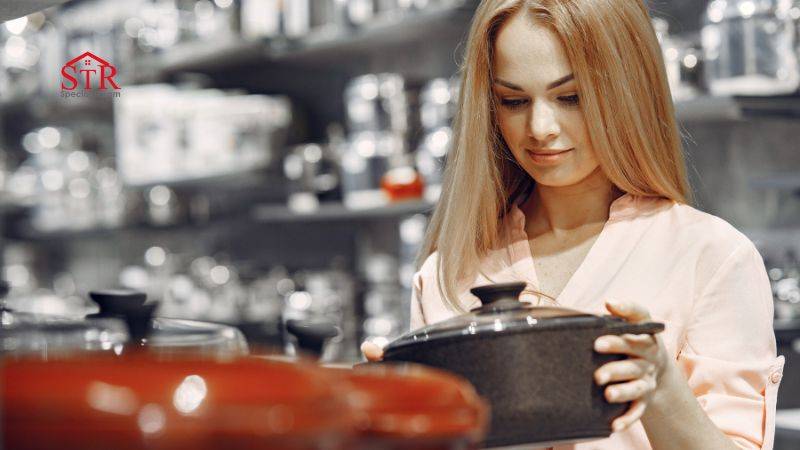 Granting access to your room or the entire property to unknown guests differs significantly from hosting your close friends for a weekend. It is crucial to equip your Airbnb kitchen with all the necessary cookware, facilitating a convenient and stress-free stay for your guests. This allows them to focus purely on enjoying themselves and exploring the unique attractions of your locality.
Considerations When Buying Cookware Sets
In case you're working with a restricted budget, don't feel compelled to overspend. Affordable, top-notch cookware sets can easily be found online. What's crucial is that you keep an eye out for the following features in your prospective cookware:
1. Having nonstick coatings is an essential feature for cookware. Fortunately, many contemporary pots and pans are coated with PTFE, which makes them easy to clean and extends their durability. Regularly inspect your pans for any signs of chipping or flaking to ensure maximum safety for your guests.
2. Lids made from Tempered and Vented Glass: These lids, designed with a steam vent, let you monitor your food as it cooks, while simultaneously releasing steam. This ensures each dish maintains the right moisture balance.
3. Uniform Heat Distribution: This is vital to avoid scenarios where food is overcooked on one side and undercooked on the other. Proper heat distribution ensures evenly cooked meals.
Top Cookware Sets for Your Airbnb Kitchen
With the aforementioned features in mind, we have compiled a list of cookware sets that would perfectly complement your Airbnb kitchen. It's important to align your purchase with your budget, hence we've categorized the cookware sets into budget-friendly, mid-range, and premium segments.
Affordable Cookware Sets
The Calphalon 10-Piece Pots and Pans Set is a prime choice for any kitchen, delivering nonstick convenience and superior durability. The set features Stay-Cool Stainless Steel Handles for safe handling during cooking. With its sleek black aesthetic, this cookware set not only enhances your cooking experience but also adds a stylish touch to your kitchen decor.
Amazon Basics Stainless Steel 15-Piece Cookware Set
The Amazon Basics Stainless Steel 15-Piece Cookware Set provides a comprehensive kitchen solution with its variety of pots, pans, and utensils. Crafted with durable stainless steel, this set is built to withstand the rigors of daily cooking. It's an excellent starter kit or upgrade for any kitchen, offering versatility and longevity to your culinary adventures.Mid-Range Cookware Sets
SENSARTE Nonstick Cookware Set (8-Piece)
The SENSARTE Nonstick Cookware Set is an 3-piece collection that stands out with its healthy granite design and nonstick coating. Its Stay-Cool handles and compatibility with induction cooktops add to its appeal. This set prioritizes health while offering superior nonstick performance, making it an ideal choice for a safe and efficient cooking experience.
Granitestone Red Pots and Pans Set
The Granitestone Red Pots and Pans Set, featuring a stunning 20-piece collection of cookware and bakeware, boasts a unique mineral and diamond coating for exceptional nonstick performance. This long-lasting, ultra-durable set is oven-safe and dishwasher-friendly, ensuring easy cleanup post-cooking. It's 100% toxin-free, making it not just a visually appealing choice with its vibrant red finish, but also a safe and health-conscious addition to your kitchen.
High-End Cookware Sets
GreenPan Valencia Pro Hard Anodized Healthy Ceramic Nonstick pots and pans
The GreenPan Valencia Pro is an 11-piece cookware set made of hard-anodized materials, featuring a healthy ceramic nonstick surface. Its gray color gives it a professional and sleek look. The set is free from PFAS, safe for induction stovetops, dishwasher-safe for easy cleanup, and oven-safe for versatility. It's an ideal blend of aesthetics, safety, and functionality, elevating your cooking experience to the next level.
Granite Cookware Sets Nonstick Pots and Pans Set Nonstick – 23pc Kitchen Cookware Sets
The Granite Cookware Sets Nonstick Pots and Pans Set is a comprehensive 23-piece collection designed for both functionality and style. This set features induction-compatible cookware that makes it suitable for various cooking methods. Its non-sticking quality promises easy cleaning and maintenance. This generous set ensures you have the right tool for every culinary task, making your cooking experience seamless and enjoyable.
Final Words
Providing a welcoming kitchen and a seamless cooking experience at your Airbnb could be exactly what your extended-stay guests are looking for. Simple enhancements, like incorporating a high-quality cookware set into your Airbnb kitchen, could significantly improve guest satisfaction and your hosting experience.
You may also like:
The Best Smart Home Devices for Your Airbnb Property