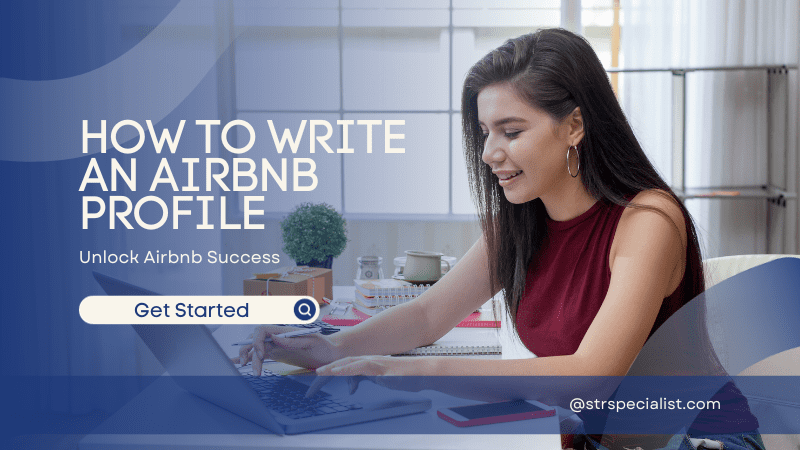 Searching for top-notch Airbnb profile examples? You're in the right place! This guide outlines a five-step process to craft an exceptional Airbnb profile.
For guests, a well-crafted profile is essential for building trust with potential hosts. Without a compelling profile, you're a stranger to them, so a great description could be the ticket to getting your booking requests approved consistently.
Similarly, hosts can't afford to underestimate the power of a well-rounded profile. A subpar profile could deter potential guests, affecting your booking rates negatively. A captivating description can help you attract more people to choose your listing.
In this guide, we've compiled actionable tips and examples to assist you in creating a standout Airbnb profile. Let's dive in!
What to include in your airbnb profile?
Firstly, let's address the key question—what components make up an effective Airbnb profile?
There are five critical elements to focus on: your bio, verification methods, profile picture, guest reviews, and additional information. By mastering these, you'll set yourself apart from the majority of Airbnb users who often overlook these crucial details.
Here's a breakdown:
| | |
| --- | --- |
| | Include Government ID, Email, Phone Number, etc |
| | Use a clear, smiling face photo; suggested size 1024px x 683px |
| | Positive reviews are crucial; hosts often rely on these |
| | Discuss hobbies and interests in 4-5 light paragraphs |
| | Mention Languages Spoken, Current Location, Social Media, etc |
Next, let's delve into these five areas in a bit more detail.
#1 Craft a Compelling Self-Description
What's the secret to creating an effective Airbnb profile? It starts with presenting yourself in a compelling yet approachable manner.
Firstly, the goal is to showcase your best attributes while remaining down-to-earth. That means maintain a friendly and informal tone throughout.
Secondly, aim for depth by writing 4-5 paragraphs. The more you share about yourself, the better. Discuss your passions, activities you enjoy, your profession, and your background, among other things. Check out the following sample Airbnb profile to get some ideas:
Hello, I'm S.T.R. Specialist!
Born in Port Villa, I spent my formative years in the UK. Now in my 30s, I took a leap of faith, leaving my writing career behind to pursue my ultimate dream: globetrotting and absorbing the world's wonders.
I thrive on forming new connections and have a knack for turning fellow travelers into lifelong buddies. My Airbnb journeys across the globe have not only offered me diverse stays but also friendships I cherish.
My heart resonates with melodies (did I mention I play the piano?), the allure of nature, the click of a camera, and the thrill of sports. Outdoor escapades, especially camping, are my calling, and yes, nothing beats a cup of rich coffee!
With an undying zeal for picking up new languages, I've managed to grasp conversational Spanish, German, and French, alongside my fluent English.
Cheers, STR Specialist
It's truly that straightforward. As illustrated in the example, I maintained a casual tone while offering a comprehensive view of my personality and interests.
When crafting your own description, you might find inspiration from the following topics.
Example topics to consider for your description:
What activities or pastimes do you enjoy?
Which destinations are on your travel wish list?
What field do you work in?
What are your favorite sports, reads, dishes, films, or tunes?
How many languages can you communicate in?
Are you in a committed relationship? Do you have a family?
Your profile can be adapted depending on whether you're primarily an Airbnb host, guest, or both. If hosting is your focus, it's beneficial to include some details about your property and emphasize your enthusiasm for meeting new individuals.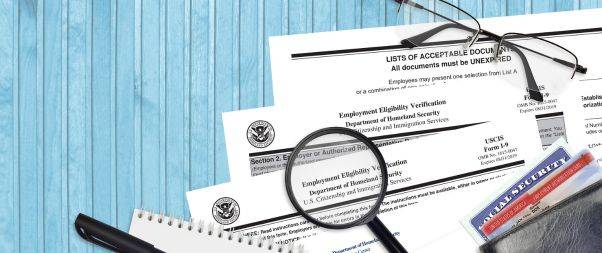 #2 Profile Verification & Contact Details
The subsequent crucial step in optimizing your Airbnb profile is verification. It's surprising how many individuals overlook this important aspect—there's really no excuse to skip it!
You have three primary methods to authenticate your Airbnb profile:
Government-issued ID
Email address
Contact number
I highly advise completing all three verifications. You might question, "Who can view my Airbnb profile?" Rest assured, your information remains confidential, as Airbnb ensures your details are not publicly accessible.
The Importance of Profile Verification
Establishing trust is one of the key benefits of verifying your Airbnb account. Imagine yourself as a host for a second. Would you feel at ease letting an unverified guest book your property?
Contrast this with a guest who has validated their government ID and phone number—sounds more reassuring, doesn't it?
Moreover, the more contact information you provide, the smoother the communication between you and your host or guest will be. Including an email address or phone number can make a world of difference when immediate contact is required.
Additionally, linking your social media accounts like Facebook, Twitter, and Google to your Airbnb profile is an excellent way to further instill confidence. It not only elevates your credibility but also increases the likelihood of hosts approving your booking requests.
In summary, take the time to authenticate your Airbnb profile through the methods mentioned above, with special emphasis on government-issued IDs.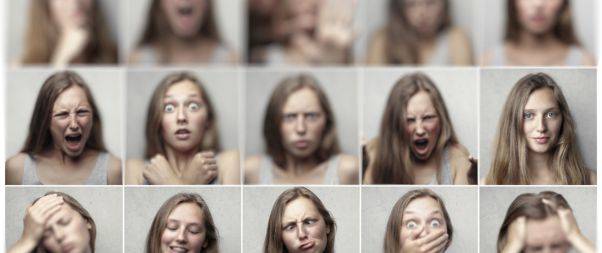 #3 Crafting the Ideal Airbnb Profile Picture
The significance of a quality Airbnb profile picture can't be overstated. Arguably, it's one of the most vital components of your profile.
Choosing the Right Picture
Having hosted on Airbnb for years, I've seen a myriad of perplexing profile pictures, ranging from empty avatars and cartoon characters to scenic landscapes. Some even use clearly deceptive stock photos. These are instant red flags you'll want to steer clear of.
A top-notch Airbnb profile picture will feature your face prominently, framed by a warm, genuine smile. Make sure your eyes are easily discernible and that your attire and hairstyle look neat. Opt for a bright, colorful backdrop over a dark, indistinct one.
Believe it or not, just by meeting these simple criteria, you'll distinguish yourself from a large portion of Airbnb users.
Profile Picture Requirements
Wondering what Airbnb's guidelines stipulate for profile photos? It's worthwhile to check their terms and conditions.
In summary, Airbnb mandates that you upload at least one profile photo where your face is clearly visible. Many hosts view this as a non-negotiable form of verification and reserve the right to decline booking requests from guests lacking a proper profile picture.
Optimal Photo Dimensions
As of 2023, the recommended dimensions for an Airbnb profile photo are 800 x 800 pixels. For listing photos, the advised dimensions are 1024 x 683 pixels, essentially a 3:2 ratio.
Ensuring your profile picture has the correct resolution is crucial for two main reasons. Firstly, Airbnb will automatically resize images that don't meet its guidelines. Secondly, if your photo has incorrect dimensions, it might look blurry or skewed, which is far from ideal.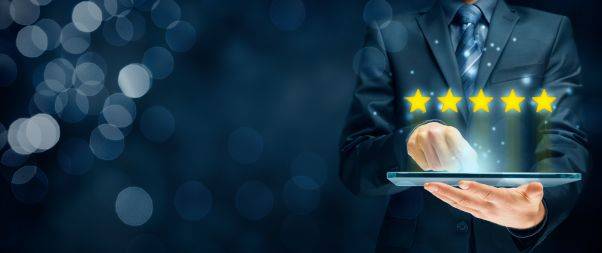 #4 Aim for Stellar Reviews
One of the pivotal elements of an impactful Airbnb profile is gathering positive reviews. Hosts will inevitably scroll through your reviews when they receive a booking request from you.
Count on them being keen to see how other hosts have rated and described your stay. Thus, if you have unfavorable reviews, it'll likely diminish your chances of being accepted.
While the subject of Airbnb reviews is too extensive to cover comprehensively here, it's advisable to explore additional resources for tips on how to garner positive feedback.
Additional Resources on Airbnb Reviews:
#5 Additional Details
Enhancing your profile isn't just about the basics; it's also about going the extra mile to provide more about yourself. This could mean mentioning the languages you're fluent in or your current city of residence.
Social media links to platforms like Facebook, Instagram, or Twitter can further validate your identity and build trust with potential hosts or guests.
If you've earned the Superhost status, a badge will be displayed alongside your name. For a deeper understanding of what it means to be a Superhost, refer to our comprehensive guide on the topic.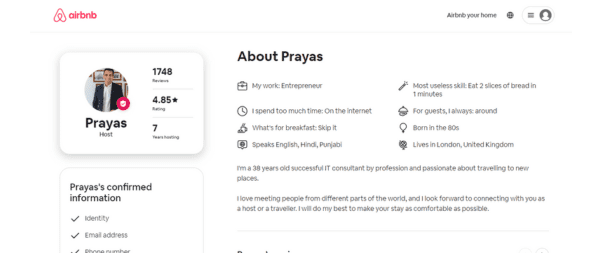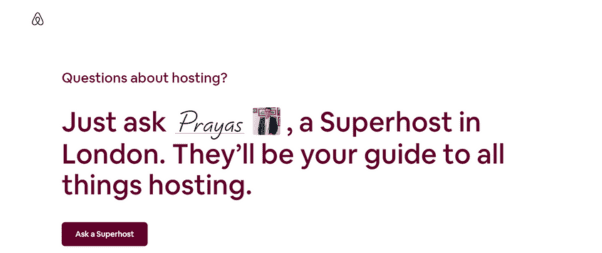 Examples of Host Profiles on Airbnb
The information I've shared so far is mostly geared toward guests, so let's switch the focus to the hosts now.
As a host, your profile should reflect your qualities and style of hosting. You might want to begin by stating your experience level—how many years or months you've been welcoming guests. Discuss what makes hosting rewarding for you; this will resonate with potential guests.
Your hosting approach is another crucial element to highlight. Whether you're an on-site host or live nearby, make it clear that you're accessible and responsive for any guest needs.
Some hosts love the social aspect of Airbnb; if that's you, say so. Mention if you enjoy giving guests local tips or even showing them around. This could be a unique selling point that secures you more bookings.
Don't forget to talk about your property too. If you've recently updated or renovated the space, include that information. The more details you offer, the more enticing your listing will be.
SAMPLE HOST PROFILE
Hello, I'm STR Specialist!
I'm a STR specialist originally from the sun-soaked landscapes of Port Villa. I've had the fortune of globetrotting extensively, but there's no place like home.
Among the things that pique my interest are mastering new languages, tickling the ivories, and venturing into nature for some camping. A fan of cinema and athletic events, I make sure to maintain an active lifestyle.
I've stayed in a multitude of accommodations from hotels to various short-term rentals. Now as a host, I'm eager to extend the exceptional hospitality I've experienced worldwide to my guests.
Located just a short stroll from the shoreline, my property offers you complete privacy. If you're interested, I live close by and would be more than happy to give you a guided tour of the local area.
Cheers, STR Specialist
Now Start Crafting
Your Profile! I trust this guide has given you valuable insights into creating an outstanding Airbnb profile. Recognizing the impact of a compelling description should not be underestimated.
Many individuals neglect this aspect, which means you'll already be steps ahead by taking this seriously.
To recap, focus on these five essential elements, and you'll find it's simpler than you think:
Craft a thoughtful self-description
Provide detailed contact information and complete verifications
Choose an appealing profile photo
Aim for positive reviews
Include additional relevant information
Best wishes on your journey, and feel free to share your experiences in the comments below.