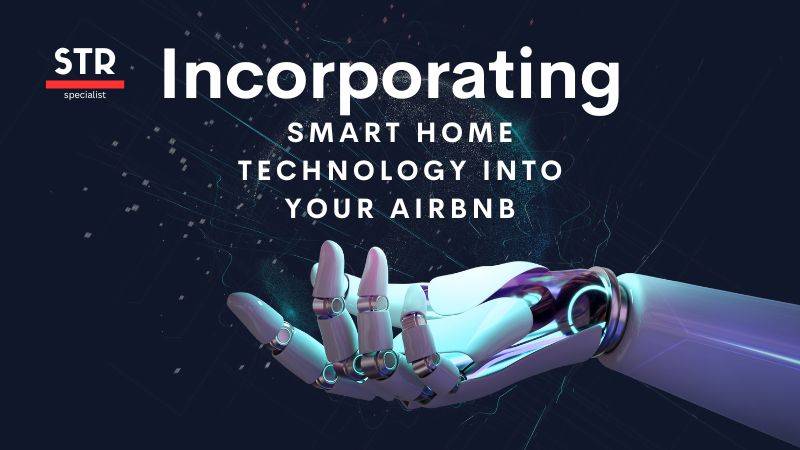 As an Airbnb host, you're always looking for ways to enhance your guests' experience and streamline your operations. One of the most effective ways to achieve both these goals is by incorporating smart home technology into your Airbnb. 
In this article, we'll explore some of the best smart home devices for Airbnb hosts and how they can benefit both you and your guests.
1. Smart Locks
Smart locks are a game-changer for Airbnb hosts. They allow guests to check in and out independently, eliminating the need for physical key exchanges. Some smart locks can even generate temporary digital keys that expire after the guests' stay, enhancing security. The August WiFi Smart Lock is a popular choice among Airbnb hosts due to its integration with the Airbnb app.
2. Video Doorbells
Video doorbells, such as the Ring Video Doorbell 4, allow you to monitor your property remotely. They can send you alerts when guests arrive and leave, and they can also record video clips when motion is detected. This can help you ensure that your property rules are being followed.
3. Smart Thermostats
Smart thermostats can enhance your guests' comfort and save you money. They allow guests to adjust the temperature to their liking, and they can be controlled remotely, so you can turn off the heating or cooling when the property is unoccupied. The Ecobee Smart Thermostat Premium is a highly recommended option.
4. Smart Smoke Detectors
Safety is paramount in any Airbnb property, and smart smoke detectors can help ensure your guests' safety. They can alert you remotely if a fire breaks out or if the batteries are about to die. The Google Nest Protect is a top choice as it can detect both slow and fast-burning fires as well as carbon monoxide.
5. Smart Home Speakers
Smart home speakers, such as Amazon's Alexa or Google's Nest, can provide entertainment and convenience for your guests. They can set alarms, ask questions, and control other smart devices with simple voice commands.
6. Smart Lights
Smart lights can add a touch of luxury to your Airbnb property. They can be controlled remotely or by voice commands through a smart home speaker, and they can even change colors to create different moods.
7. Smart TVs or Streaming Devices
A smart TV or a streaming device can make your guests feel at home. They can sign in to their favorite streaming services and watch their favorite shows or movies. If you don't want to invest in a new TV, a streaming device like Roku can turn your regular TV into a smart TV.
8. Mesh WiFi System
A strong, reliable WiFi connection is one of the most important amenities for Airbnb guests. A mesh WiFi system can provide a strong signal throughout your property, eliminating WiFi dead zones.
STR Specialist's Resources
At STR Specialist, we offer a range of training programs that can help you navigate the challenges of Airbnb hosting, including incorporating smart home technology into your Airbnb. Our programs, such as "More Bookings," "95% Automation," and "Optimized Comms," provide practical tips and strategies to boost your bookings, automate your operations, and optimize your communications with guests.
Incorporating smart home technology into your Airbnb can enhance your guests' experience, streamline your operations, and even save you money. By choosing the right devices for your property and your guests, you can set your Airbnb apart and attract more bookings. At STR Specialist, we're here to support you on your hosting journey with resources and training programs designed to help you succeed.
You may also like:
Airbnb's Plan for 'Essentially' Eliminating Cleaning Fees: CEO's Insights