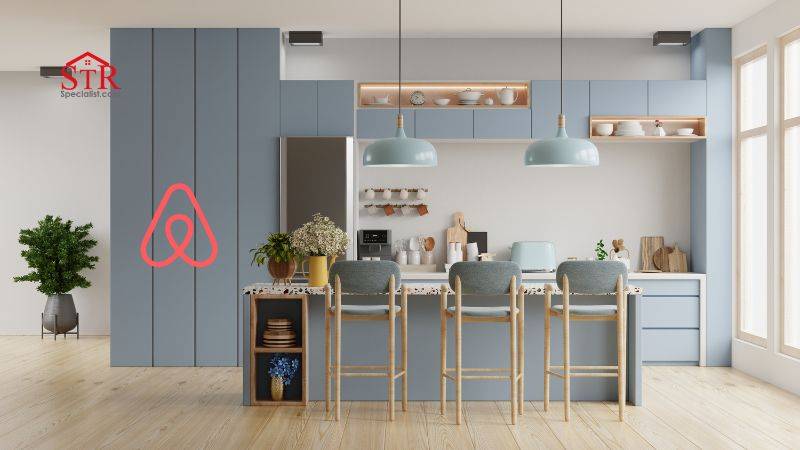 Curating the design for your AirBnB might seem daunting, particularly if you're struggling for creativity. One effective strategy to kickstart your process is to hunt for motivation in appropriate spots. 
Here's a concise overview of 15 fantastic interior design suggestions, sourced from seasoned AirBnB hosts.
1. Embrace Glamping
Who claims that camping needs to be dull? Consider this rental that elevates "glamping" into a distinct category. This property seamlessly merges the essence of the wilderness with contemporary and trendy aesthetics. Here's some insight from a fellow AirBnB host:
"Recognize your target audience and tailor your design accordingly. While we could have catered to fishers, we decided to craft an experience for families. The design, brought to life by my daughter, appealed to our chosen demographic. 
Secondly, infuse it with variety. We incorporated elements from our family trips to Italy, France, Croatia, and Crete. These personal touches lend longevity to the design as it doesn't hinge on a singular design style. It's more comprehensive. 
We purposely avoided the stereotypical "cabin" feel with bulky wooden furniture and pine wood. Instead, we provided something that caters to diverse tastes."
2. Embody Cabin Elegance
If you're considering another approach to glamping, adopting a 'cabin elegance' style for your rental could be the way to go. This choice is particularly excellent if your property is nestled among forests and lakes, and you aim to maintain the warm, homey atmosphere of a cabin. 
An inspiring instance comes from an Airbnb host who succeeded in blending contemporary touches while keeping their rental welcoming.
"I rely on Pinterest and mood boards to shape my vision. This one was designed during the Covid period, so I aimed for cleanliness and a white aesthetic but with a cabin's touch. I dub it, 'cabin elegance'!"
3. Coastal Vibes
Incorporating a beach theme can be a delightful touch to a rental, particularly if your property is situated near the coast. The trick, however, is to keep it subtle and not go over the top. 
Opt for hints of summer hues and light blue accents around the room, but keep the primary colors of the majority of your furniture to light brown and white. If you're hesitant about incorporating a seaside theme throughout the property, consider adopting it for a single room. 
For instance, many hosts find beach-inspired AirBnB interior design ideas particularly suitable for bathroom decor.
4. Embrace Simplicity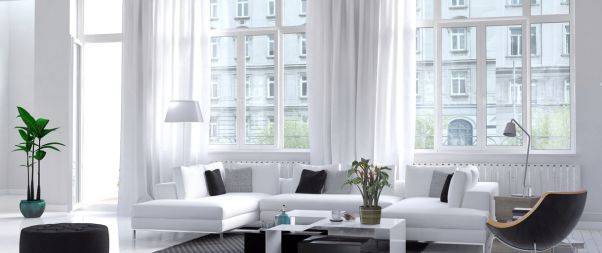 When you're uncertain but still want to achieve a sleek look, opting for a minimalist theme is a fail-safe choice. This becomes even more significant if your rental features impressive architecture you'd like to spotlight. 
Consider this insight from a host who believes in minimalism for their rental:
"Opt for minimalism to allow the art and architecture of the space to truly stand out."
5. Incorporate a Standout Element
Suppose you've opted for a minimalist aesthetic for your rental, but it feels like it's missing a unique touch. Thankfully, there's no need to overhaul the entire space to infuse some charm. A single standout item can elevate a room's luxury feel. 
For instance, one statement vase or art piece can become the room's focal point. Even coloring one wall a different hue can add significant depth and interest.
6. Comforting and Cozy
Some guests are looking for a rental that replicates the comforting ambiance of their own homes. So, why not curate your rental to provide that same familiar feel? If you appreciate your actual home's design and atmosphere, you can mirror that in your rental property. 
Here's an inspiring example from a host who designed their welcoming AirBnB with this in mind:
"I initially designed this space as my personal home, reflecting how I want my own house to look and feel."
7. Child-Friendly Design
Many guests seek rentals that accommodate children, but you may have concerns about youngsters potentially damaging your decor. Fortunately, there's a solution. 
Consider statement pieces such as vintage lighting fixtures that are out of children's reach. For a kid-friendly touch, add exciting elements like a chalkboard wall in one of the rooms.
8. Vintage Appeal
Who said all remarkable AirBnB interior design ideas have to break the bank? You can create a stunning look while sticking to a budget by choosing vintage furniture, an aesthetic that many appreciate. 
Your best options for vintage pieces are items crafted from metal, leather, and wood, as they not only look fantastic but also stand the test of time.
9. Highlight Local Attractions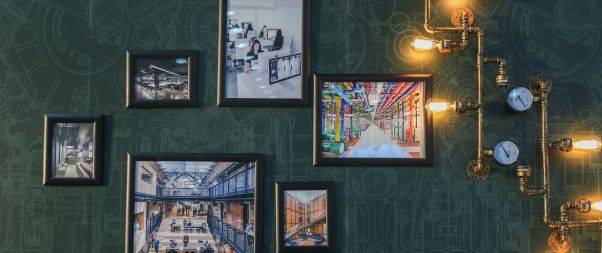 Is your AirBnB surrounded by numerous amenities? Don't hesitate to flaunt it! Many guests are attracted to rentals located near fun activities, especially if the property's theme complements that. For example, this ski lodge embraces a cozy, summer ambiance paired with charming "lodge" aesthetics.
"I take great pride in my quaint AirBnB situated near a ski mountain, and I've decorated it to match that theme!"
10. Infuse a Burst of Color
If you're apprehensive about colors clashing, there's no need to worry. You can maintain a largely neutral color scheme for most of your furnishings and then introduce a few accent hues for a vibrant pop. 
For example, if your primary colors are white, black, and grey, consider using red throw pillows to make your room feel more dynamic and lively.
11. Support Local Craftsmanship
One of the most impactful AirBnB interior design ideas is to prioritize local sourcing. While it may not constitute a design theme per se, it's an affordable and highly effective way to embellish a rental tastefully. Consider this advice from an AirBnB host who adopted this approach in their property.
"Collaborate with as many local artisans as possible! We partnered with our local Amish community for all cabinets, trim, flooring, and even 200-year-old barn beams! Not only was the pricing reasonable, but the quality is also exceptional."
12. Accentuate with Floor Decor
Many tend to overlook the potential of using floors as a canvas for decoration. A simple accent rug could be all it takes to pull a room together. For example, a vibrant, eclectic rug can inject life into a minimalist room, while a snug, understated rug can make a vintage theme appear more welcoming.
13. Incorporate Essentials as Decoratives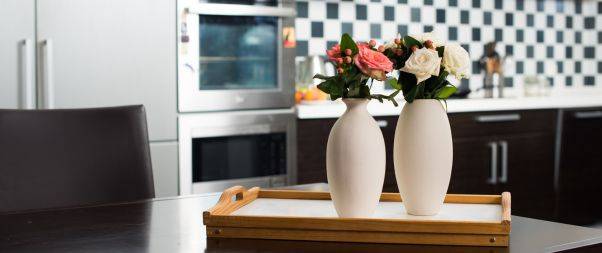 There's no need to go overboard with decor for your rental—unless you desire to. In fact, you can "decorate" your AirBnB using the items that naturally belong in the room and align with your chosen theme. 
Suppose you have a beach-themed rental and want to adorn the bathroom—you could select towels and other bathroom accessories that carry beachy colors and designs to create a harmonious vibe.
14. Understand Your Target Guests
While designing a rental, it's crucial to remember that you're essentially "marketing" your property to potential guests. Therefore, it's important to identify who your customers are. 
For example, if your property is located near an amusement park, your potential renters are likely to be families with children. Hence, it would be beneficial to include AirBnB interior design ideas that emit a sense of warmth and fun while maintaining a child-friendly environment.
15. Maintain Consistency
No matter which AirBnB interior design ideas you find inspiring, the most crucial element is to maintain consistency in your design approach. Select a specific style and stick with it. 
When you introduce too many themes and colors into a room, it can lead to a sense of clutter and discomfort. Instead, create a welcoming environment in your rental by adhering to a singular theme.
Draw Inspiration from These 15 AirBnB Interior Design Ideas
Generating AirBnB interior design ideas doesn't have to be daunting, especially when you have the right source of inspiration. You can employ any of these AirBnB design concepts to transform your rental into a designer's haven.
Once you've settled on the core aesthetic for your AirBnB rental, these timeless tips on optimizing your bed-and-breakfast experience will undoubtedly prove beneficial.
You may also like:
Establishing an LLC for Airbnb Hosting: A Guide to Forming Your Business