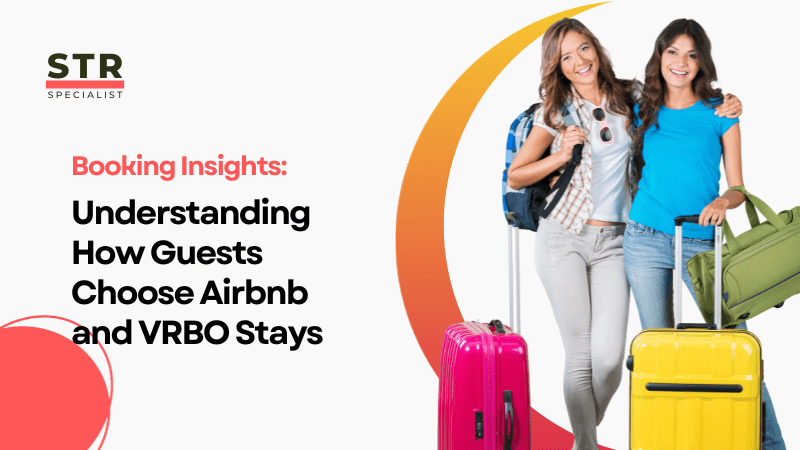 Discover the evolving habits of your guests as they navigate through the online world to plan and secure their travels.
As digital platforms and the travel sector become increasingly diverse, the journey from inspiration to final booking is more complex than ever.
We've carried out specialized studies across US to gain deeper insights into what motivates guests during their online travel shopping experience.
This also allows us to highlight numerous opportunities for vacation rental owners to effectively connect with potential guests at various stages of their decision-making process.
Access the report for valuable insights on vacation rentals and strategies to effectively engage and convert potential guests during their online journey to booking.
Motivation Stage
Guests seeking vacation rentals tend to spend more time in the initial inspiration stage compared to other types of travelers.
Explore the various elements, from social media to targeted advertising, that play a crucial role in shaping traveler preferences.
Learn effective ways to engage with potential guests during this critical phase before they finalize their choices.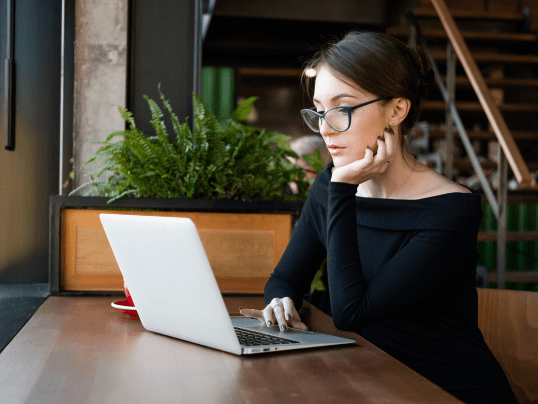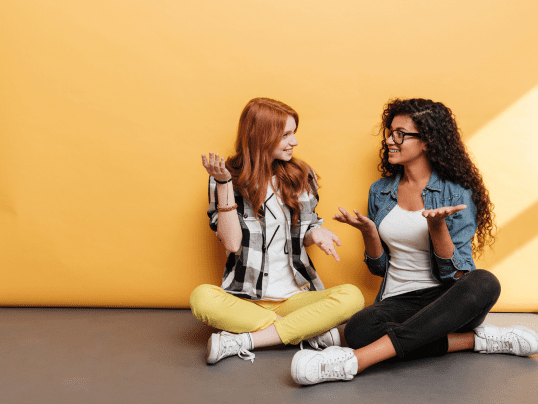 Information Gathering and Trip Organization
Vacation rental guests often dedicate an extensive amount of time to exploring travel-related content during their planning and research phases.
Understand which platforms and resources they consult, as well as the key considerations that impact their booking decisions.
Reservation Process
A variety of elements such as brand loyalty and past experiences weigh heavily on where vacation rental guests decide to make their bookings.
Gain insights into the significance of these factors and discover strategies to effectively interact with potential guests prior to their final purchase decision..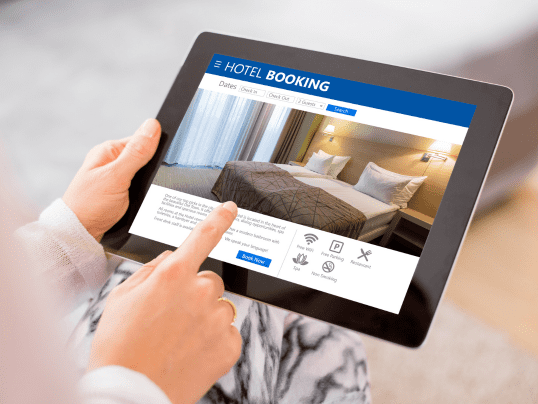 Introducing the U.S. Traveler Booking Report
Our in-depth U.S. Traveler Booking Report is specifically tailored to provide comprehensive insights into the American travel market.
The report explores the myriad factors that influence U.S. travelers as they navigate through each stage of their journey, from initial travel inspiration to final booking.
Whether you're interested in understanding how American travelers conduct their research, what informs their planning, or what ultimately drives them to click 'book,' this report serves as a one-stop resource.
It aims to offer an exhaustive understanding of U.S. travel trends, behaviors, and preferences, providing actionable insights for anyone vested in the American travel and hospitality industry.
The Journey to Booking: Exploring How U.S. Travelers Research and Reserve Online
Crucial Observations: United States
Navigating a nuanced and layered booking process, this study deciphers the actions and motivations of travellers in their journey to booking.
It highlights the primary elements and platforms that steer decisions related to online travel reservations.
In the intricate and multi-dimensional journey towards making a booking, this study delves into the behavior patterns of travelers. It identifies the major factors and tools that impact their choices when booking travel online.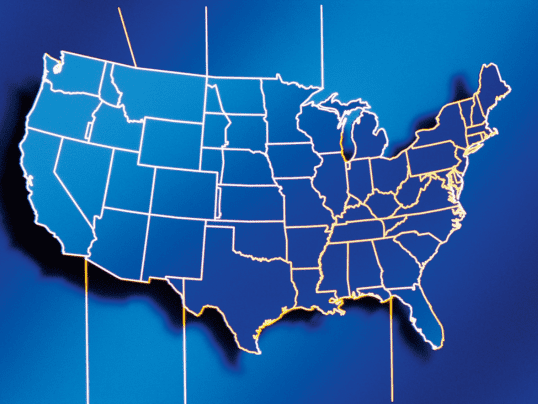 The study incorporates data from U.S. travellers gathered from:
• Over 800 individuals who responded to surveys
• A digital panel consisting of 11,500 members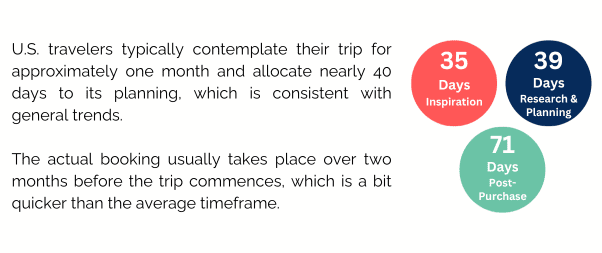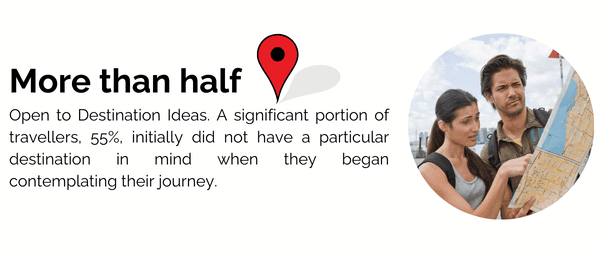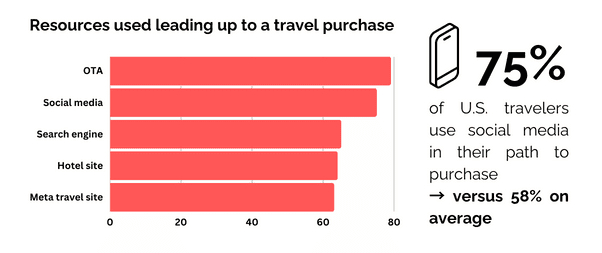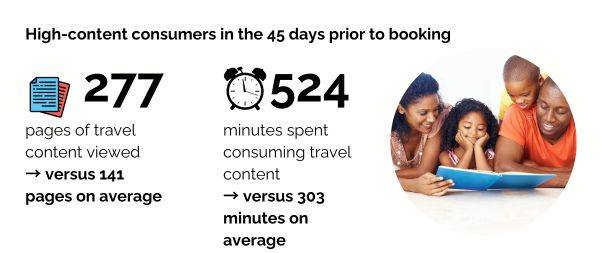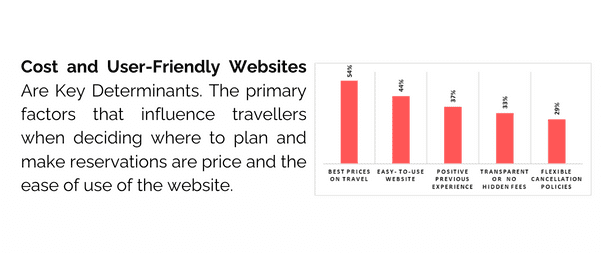 Travelers Take Early Notice of Advertisements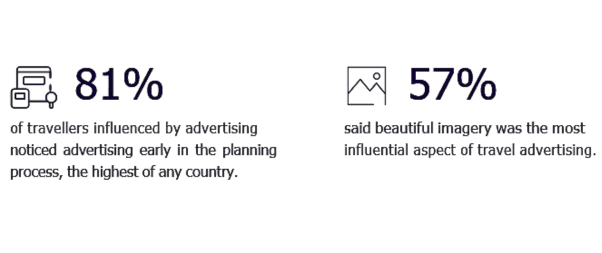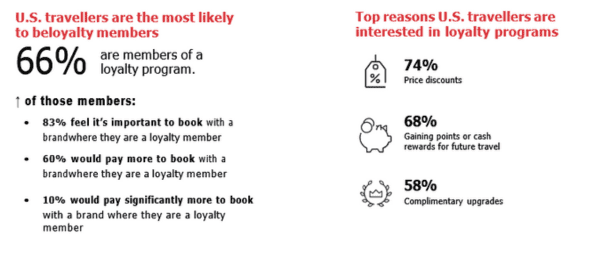 Distinguish Yourself in a Competitive Environment
Prior to making a reservation, U.S. travelers engage more extensively with travel-related content compared to international travelers.
In this saturated market, finding unique strategies to make your content memorable is crucial.
Embrace Loyalty Programs
U.S. travelers are more inclined to be part of loyalty schemes and consider them significant when booking.
Highlight your loyalty perks across your digital platforms and think about providing special discounts to reward your committed travelers.
Adopt a Ubiquitous Strategy
U.S. travelers engage with a variety of resources during their booking journey.
Consider employing multi-platform and cross-channel methods, and take advantage of strategic collaborations to broaden your scope and visibility.
OTAs Serve Multiple Roles
Travelers often rely on Online Travel Agencies (OTAs) not just for reservations but also for travel inspiration, planning, and research.
By offering a comprehensive suite of services that assist travelers during their entire booking journey, we generate demand for our partners across various types of travel.