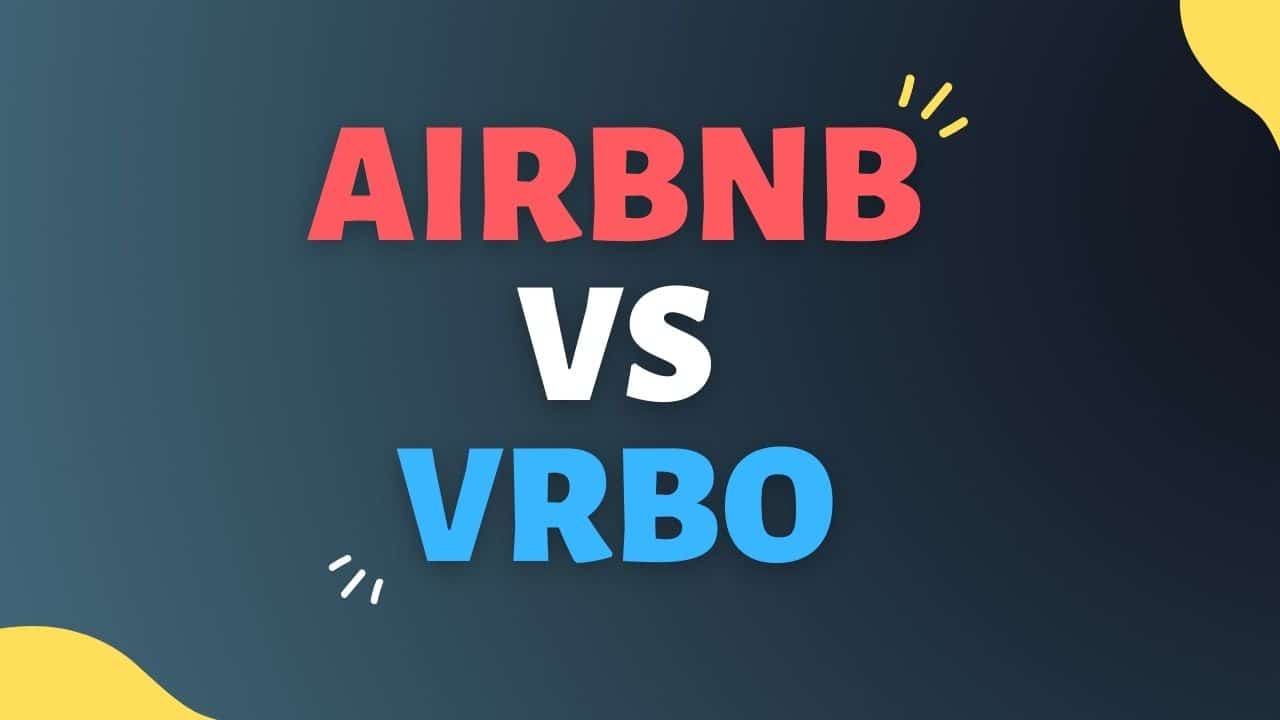 Home-sharing services like Airbnb, Vrbo, Trip advisor homestay booking.com have exploded worldwide over the past decades as many people now love to spend their vacation living like a local in a given city. What's more attractive in this short-term rental business is its reasonable price than the hotels. Many platforms in the market claim to provide you with the best short-term rental services, but there are two market leaders that everyone prefers, Airbnb and VRBO. There has been a Vrbo vs Airbnb debate going on for a long time. This eternal debate has confused many guests about which platform is the best.
Depending on your travel interest, style and budget, there are advantages and disadvantages to each rental vacation site. The premise for both Vrbo and Airbnb is pretty much the same: give ordinary people the platform to rent out the property to guests or travellers. If you are a city traveller, you will enjoy an immersive neighbourhood experience.
If you are the adventurous traveller type, you can find exceptional properties in more remote places; the possibilities are endless. But before choosing, you must do a VRBO vs Airbnb comparison to choose the best.
So, here's comparing VRBO vs Airbnb features so that you can choose which one suits you the best.
Vrbo vs Airbnb Comparison
1. Airbnb - Allowed Property Types
You can put any property that you have on short-term rent on Airbnb. Airbnb allows property owners and hosts to list various properties, starting from tiny houses to cabins to castles, luxury villas, etc.
This means that guests or travellers looking for specific or unique property types can easily find them on this platform. Airbnb even allows you to list the sharing-basis accommodation spaces, which means that your guests can book a single room within a property instead of paying for the entire place.
2. Vrbo - Allowed Property Types

Vrbo is a rental platform that offers more of a traditional accommodation structure. Vrbo is usually more about family stays, so it only accepts booking for standalone vacation properties, and that means you cannot list any sharing spaces on this platform.
So naturally, Vrbo is more attractive for larger families who are willing to travel together and are looking to rent the entire property for themselves.
Vrbo and Airbnb are both short-term rental platforms, but if you are willing for more extended stays, Vrbo can be your best pick. But if you are looking for shorter stays, there's no better option than Airbnb.
Vrbo vs Airbnb Service Fee
Whether it's Vrbo or Airbnb that you choose to list your property or make a booking, you will have to pay the service fee. This service fee is compulsory for both guests and hosts. This service affects your overall short-term rental revenue and the booking price a guess should pay for a reservation.
So here is the service fee comparison between the two.
Airbnb offers you two service fee options: the host-only fee and the split fee.
As evident from the name, the split fee option splits the service fee between the host and guest. By using this model, guests usually can absorb the bulk of the service fee by paying about 14% of the booking total as a part of an additional fee. On the other hand, the host has to pay around 50% of the total booking cost. However, this amount could be increased for the holes that rule for strict cancellation policies.
In the host-only model, the host has to pay the entire service fee to Airbnb. Usually, the amount is between 14 to 16 % of the total booking cost. The hosts aren't charged a separate processing credit card fee in this model.
The host-only service fee structure is compulsory for hotels and software-connected hosts unless Delhi settings are located in Canada, the United States, Argentina, the Bahamas, Mexico, Uruguay, or Taiwan.
The host that opts for strict cancellation policies and Airbnb plus host may pay higher fees. Also, the Airbnb property owner who offers Airbnb experiences has to pay a 20% service fee.
The guests have to pay between 6 to 12% as a service fee of the total reservation cost when they make a booking.
As for hosts, Vrbo offers service fee models based on their estimated annual revenue. Either they can choose for a $499 yearly subscription fee model that would cover all the reservations they got on this platform throughout the year, or they have the option to pay for the booking fee for every individual booking. If you opt for the latter, you will have to pay a 5% commission fee for every booking class and a 3% credit card processing fee.
If you, as a host, can ensure that you will exceed the minimum number of reservations to cover the cost, the annual subscription may help you save some on hosting fees. So, if you are a host who puts their property on the platform full year and makes more than and $10,000, then the subscription model could be the right choice.
Vrbo vs Airbnb - What's the Cancellation Policy?
Unexpected cancellations can be e nuisance for both guests and hosts, so to protect them both from the negative impact, both Airbnb and Vrbo have several cancellation policies. They both offer a refund policy if the guest notifies the host of the cancellation within the suggested time frame.
Before making any reservation, guests should go through the listings carefully to see the host's cancellation policy. Do search for the host's selected cancellation policy and its terms and conditions in detail.
1. Airbnb Cancellation Policy
Airbnb offers you three choices of cancellation policies to choose from; flexible, moderate, and strict. Apart from these three, the other three additional policies include super strict (30 days), super strict (60 days), and long-term. According to the flexible policy, guests can cancel a reservation even before 24 hours of check-in and receive a full refund. So, for obvious reasons, the flexible policy is the favourite option among the guests.
Guests choose listings that have a flexible cancellation policy more often because they know they can cancel a booking and still will receive a complete refund if they have to cancel for any reason. This makes the entire process of making a reservation stress-free and easy.
Choosing the flexible cancellation policy on Airbnb leads to a higher number of reservations and bookings and increases your occupancy rate. The downside of the flexible policy option is that you can experience a loss of profit if you fail to find a replacement guest.
2. Vrbo Cancellation Policy
Vrbo offers five kinds of cancellation policies for hosts to set for their listings. These are relaxed moderate, firm, strict, and no refund. Some of these cancellation policies allow guests to obtain a refund, while on other policies, you won't get your refund if you cancel the reservation. With Vrbo's relaxed cancellation policy, if guests cancel a reservation no later than 14 days before check-in, they are eligible to receive a full refund. As far as no refund policy is concerned, guests cannot ask for a refund under any circumstance.
Vrbo vs Airbnb- Selection and Audience
Before making a listing, you should consider the type of travellers the vacation rental site attracts and the number of rental properties the site offers to guests.
As a host, you would want to put your time and effort into a rental platform that receives a lot of high-quality travellers traffic. If we make a Vrbo vs Airbnb comparison, Airbnb typically attracts almost double the guest traffic than Vrbo does each month. So Airbnb has the upper hand in drawing the most of the traffic.
Guests will prefer vacation rental site that offers a wide selection of properties. Airbnb, without any competition, wins the ground for providing the broadest range of properties for its guests. Airbnb has over 4.6 million listings which are double that of Vrbo's.
Along with the overall web traffic, you should also consider the type of audience or travellers the rental site attracts. You have to make sure that the website visitors are interested in the kind of rental property you offer.
Here's the Vrbo vs Airbnb comparison in terms of audience.
Airbnb mainly attracts younger generation people searching for affordable and reasonable short-term vacation rentals. If you are an adventurous traveller and are looking for a trip with new experiences, you want to stay at an Airbnb rental instead of a typical hotel.
All in all, if you're talking about the Airbnb guest profile, then Airbnb attracts people or travellers who would like to rent a property for the short term at a reasonable price and in city destinations. It also lures business travellers searching for convenient accommodations with the necessary facilities in the urban areas.
People who like to stay in traditional vacation destinations prefer Vrbo because it is known for its vast properties in hot tourist destinations.
It won't be wrong to say that Vrbo mainly caters to families and older audiences willing to book an entire house. So if your property can accommodate a large family or a group and is kid-friendly, then listing it on Vrbo would be an intelligent thing to do.
Vrbo vs Airbnb - Bookings
Both Vrbo and Airbnb offer booking functionality on the sites, allowing the guest to book a property with either the property owner or property manager of each listing.
Both of these rental sites offer a useful instant booking feature. This handy feature helps the booking process be much more convenient for guests. Using the instant booking feature, a guest does not have to wait for a booking request from the host but allows guests to book the rental instantly.
Reviews form a big part of any rental site as it has a significant effect on the bookings of each listing. If you compare Vrbo vs Airbnb, there are some critical differences in the guest's reviews that you would note.
Airbnb encourages its guests to leave reviews after their stay. Similarly, a host can also leave a review to its guest. Both host and guest have 14 days to write a review. The review system is based on the traditional five-star rating and asks guests to rate the property according to the cleanliness location, communication, listing, description of a listing, value for money, and checking.
If a guest has some concerns regarding a property, they can filter the accommodations by reviews to find the best pick for them.
Host or guest has up to one year from the date of check-in to leave a review. However, once one party has submitted the review, the other party has 14 days to defend it.
Like Airbnb, guests can rate the property using a 5-star rating system and submit the reviews to the site to help others. The main difference from Airbnb reviews is that the host's response to the reviews given by guests is displayed within the review section. It is a convenient option because it allows guests to view the whole picture and get more insight into other guests' perspectives before booking a place.
Conclusion- Vrbo vs. Airbnb
If we have to summarize this Vrbo vs Airbnb showdown, we can say that air b and b have more properties to offer, but Vrbo is more customizable.
It offers a wide selection of vacation rental properties to guess and features affordable and pricey options.
The host fee that Airbnb takes is the lowest in comparison to Vrbo and other vacation rental sites.
In addition to rentals, Airbnb offers Airbnb experiences.
This vacation rental side is suitable for city travellers and people seeking adventurous vacations.
This vacation rental side offers a small number of property listings compared to Airbnb, which means the guest has less variety of choice.