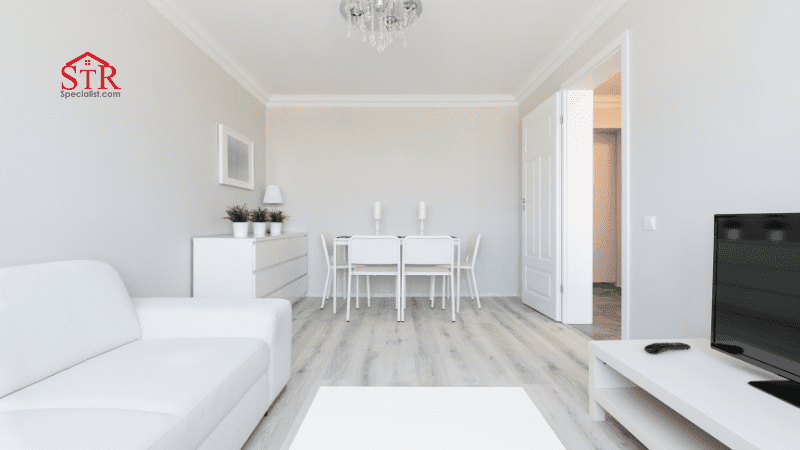 Operating a short-term rental from your residence or an additional property can serve as an effective avenue for supplementary income. As a certified Short-Term Rental Stylist, Airbnb hosts, and investors represent significant clients. 
It's crucial to fashion a space that's both appealing and cozy to draw in guests. Here are five strategies to enhance the style of your Airbnb and entice guests, thereby boosting your earnings potential.
Tip 1: Embrace Minimalism
Strive for a clean, clutter-free environment when designing your Airbnb. Your guests should feel as though they've stepped into a restful holiday retreat, not confronted with the disarray and tension of a typical home. 
Consider using just a few select pieces of art and plants rather than an abundance of small decor items to establish a serene, tidy ambiance.
Above all, it's essential to remove personal objects like family photos, medicines, and any religious or political items. Your Airbnb guests will appreciate the feeling of staying in a neutral space, rather than in a stranger's home.
Tip 2: Prioritize Comfort
Investing in high-quality bedding, cozy pillows, spacious rugs, and fresh towels can significantly enhance the comfort level of your space. 
These items can help your Airbnb guests feel as though they're in a lavish and special setting, rather than just occupying someone's unused room.
Consider storing additional blankets in a cabinet, providing little luxuries like high-end lotions and soaps, and placing a few engaging and aesthetically pleasing books on the bedside table for that extra touch of comfort.
Tip 3: Emphasize Practicality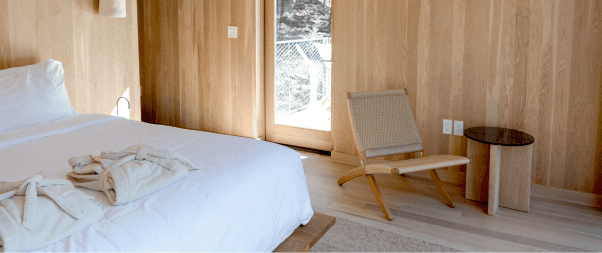 While aesthetics are important in staging an Airbnb, practicality should never be overlooked. Consider the logistics of cleaning and the needs of your guests. 
For instance, furniture that provides visible and easily accessible storage can aid guests in maintaining an orderly environment during their stay and ensure they don't forget their belongings upon departure.
Guests will require space for their toiletries, clothing, and personal items. Choosing open shelving over closed closets or cabinets can make it less likely for things to be left behind when guests pack up to depart.
Tip 4: Load Up on Amenities
Enhance guest satisfaction by offering thoughtfully-chosen amenities such as coffee makers, irons, Wi-Fi, and air conditioning. Opt for amenities that are commonly searched for on Airbnb to attract discerning guests. 
If guests are specifically looking for certain amenities, like washing machines, dryers, or hairdryers, your listing will appear in their search results, simplifying their decision-making process.
Tip 5: Highlight Photography
The final piece of advice in our five-step guide to styling Airbnbs and enticing guests emphasizes the significance of photography. Comparable to home staging, photography stands as a critical element when styling an Airbnb. 
It's the photos that accompany the listing which influences guests' decisions on where to stay.
In Conclusion
In conclusion, implementing these strategies to enhance the style of your Airbnb can greatly improve your guests' experience and increase your earning potential. 
Embracing minimalism, prioritizing comfort, emphasizing practicality, loading up on amenities, and highlighting photography are all key factors in creating an appealing and inviting space. 
By paying attention to these details, you can attract more guests, receive positive reviews, and establish a successful Airbnb rental business.
You may also like
The Best Smart Home Devices for Your Airbnb Property: Enhance Your Guests' Experience and Streamline Your Operations