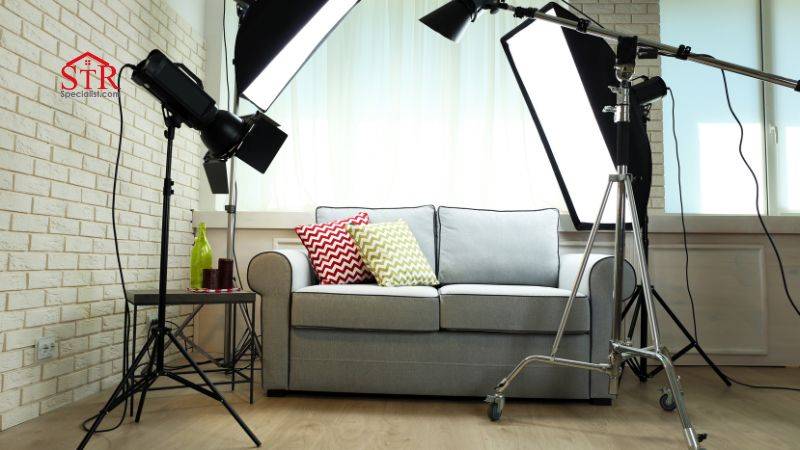 Attracting potential guests online is the initial move towards a prosperous booking. Amid a sea of competing listings, how can you ensure your property shines? 
Tailoring your home to suit diverse guest preferences and their specific requirements can seem daunting. However, by adhering to the steps detailed below, you can simplify the staging process tremendously.
1. De-cluttering Your Space
The initial step towards making your home attractive to guests is maintaining cleanliness. It's a given that your home should be clean, but when renting out to unfamiliar people, it's necessary to elevate this standard.
Overlooked details such as grout lines, bathtub stains, and randomly scattered cords on the living room floor might inadvertently be ignored while photographing the area.
Ensure you have a variety of baskets, jars, or containers available to organize loose items like remote controls. Utilizing furniture-safe tape is an affordable solution to conceal unsightly cords from lamps and televisions. 
After organizing these loose items, it's time to focus on the fine aspects of cleaning. Removing stains from porcelain, especially bathtubs, can be challenging.
A practical solution is using clean, non-slip mats that not only improve cleanliness but also add to the décor. Remember to wash these mats after each guest's stay.
2. Embellish the Area
While embellishing the area, several factors need to be considered. This includes the size of your space, the average expected length of the bookings, and your property's overall location. For instance, if your property is beachfront, your guests might be looking for a seaside escape.
In such a case, infusing a tranquil coastal ambiance could be a charming touch. Conversely, if your property is a downtown loft, a décor featuring exposed brick and chrome may be more fitting.
Regardless of your chosen decor, the space should exude safety, comfort, and warmth. While individual rooms may have unique features or themes, a sense of consistency should be maintained throughout the space.
Conversely, undecorated areas can give off a stark, incomplete feeling. Your guests should sense a homely warmth when they step into your property, and this must be portrayed in your photos. 
Little homely touches like coordinating throw pillows, striking wall accents, and elegant hanging mirrors can significantly enhance the appeal of your listing.
3. Organize Your Furniture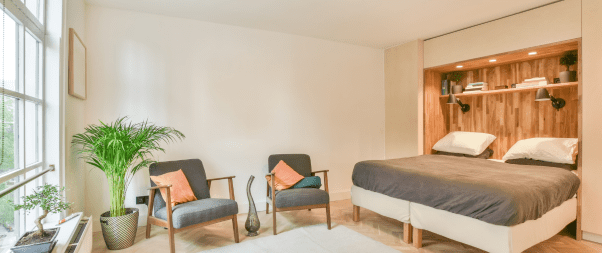 You might believe your furniture placement is functional, but how photogenic is it? For each room, position yourself at the point where you plan to take photographs, typically in a corner or entryway.
From this perspective, does any furniture, like couches, obstruct windows or natural light? Does that coat rack you picked up at a garage sale obscure unique architectural features at the entrance? These are aspects to consider.
If your prospective guest enjoys hosting gatherings, try emphasizing the spaciousness of the room. If there's a couch acting as a central island, consider relocating it along a wall. This strategy not only creates more walkable space but also allows the camera to capture the entirety of the room.
4. Showcase Facilities
In a conventional hotel room, amenities like coffee and toiletries are expected. Airbnb guests also look for these, but they might not be explicitly mentioned in the listing. 
A great way to demonstrate your commitment to guest comfort and convenience is by highlighting these amenities in your photographs.
Include images of your coffee maker and a selection of light breakfast items in your kitchen scenes. Ensure your coffee maker is spotless and devoid of residual coffee grounds. A bowl or tray of fresh fruit can also add a delightful touch.
Similarly, consider arranging a basket of travel-size toiletries, extra toilet paper, and other suitable amenities on your bathroom counter. However, avoid featuring items that won't be available to your guests during their stay.
5. Light Control
Guests are unlikely to be attracted to a room that appears gloomy and poorly lit. To make your space as inviting as possible, make the most of available light sources. 
Although you may not have professional light panels to distribute sunlight throughout the room, you can still leverage natural daylight.
Open your curtains, pull up your blinds, and let the sunshine in! Ensure you don't take pictures facing bare windows, as this can result in overly dark photos.
Installing light, sheer curtains in shared spaces like the living room could allow for permanent brightness. In some instances, where it's impossible or insufficient to rely on window light, it's worth investing in your interior lighting. 
Early morning and early evening offer the best opportunities to capture soft, flattering light.
6. Setting the Stage
With your space now spick and span and decorated tastefully, it's time to stage it thoughtfully. Imagine how your guests might utilize the rooms and design the layout to match these scenarios.
If your guests are business travelers, consider creating a workspace with a laptop and notepad. Is your dining room a standout feature? Make it shine by laying out the table, adding a bottle of wine, and a carafe as a centerpiece.
Staging your room to highlight its prime features in a manner that aligns with your guests' likely use of them is quite captivating. It enables them to visualize the holiday experience they could be enjoying in your home.
7. Photographic Equipment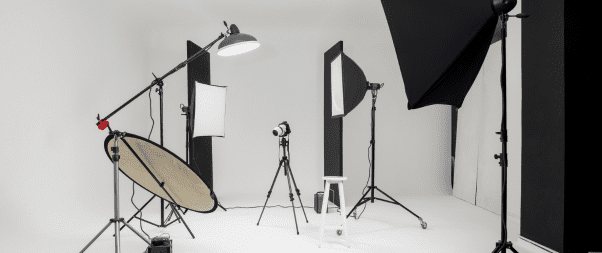 With the space primed for photographs, selecting the right gear becomes critical. While modern cell phone cameras possess impressive photographic capabilities, investing in a DSLR camera could yield better results. 
Nevertheless, if that's not feasible, additional equipment remains essential. A tripod is a must-have to ensure your camera is steady, keeping your picture clear and blur-free.
If you decide to use your cell phone, a ring light is an inexpensive yet effective accessory. Most ring lights offer multiple lighting settings and typically come with a stand for your phone. 
Consider models with remotes, allowing you to set up your camera and step away, helping to prevent undesired shadows for a more welcoming listing.
Closing Thoughts
Investing effort and care in crafting captivating photos of your listing can greatly enhance its attractiveness to prospective guests perusing the numerous listings in your vicinity.
By adhering to these guidelines, you can create appealing visuals that would aid your future guests in selecting your place over others. Your attention to detail can make a significant difference in setting your space apart in the sea of options.
You may also like:
Identifying the Ideal Location for Your Next Airbnb
Essential Guidelines for Requesting Reviews from Airbnb Guests