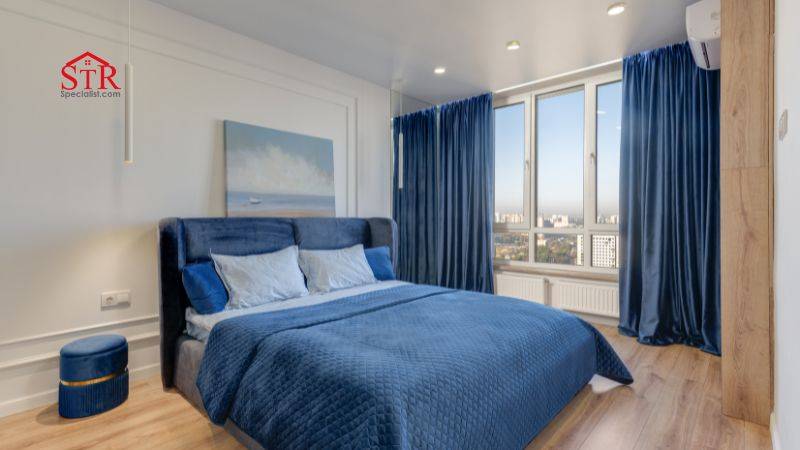 The tradition of expecting a private bedroom in a rental property is fast evolving. Nowadays, an increasing number of accommodations are promoting communal living or sleeping arrangements. 
And there's a good reason for this shift – sleeping on a sofa, for instance, can be just as comfortable, if not more so, than a bed, and it's certainly more cost-effective.
So, if you're contemplating listing your extra space on Airbnb, why not consider unconventional sleeping setups? This approach could enhance your booking potential and likely boost your income. Let's delve into innovative ideas you could embrace when designing sleep spaces in your Airbnb.
1. Bunk Beds
Bunk beds serve as an excellent choice for accommodating multiple guests and optimizing room space. When selecting these, ensure you go for robust designs with guardrails to prevent guests from falling from the top bunk. 
Should your target market be families, incorporating bunk beds or even multiple bunk beds can accommodate more guests, potentially increasing your booking rate due to the added bed spaces.
Standard bedrooms can easily accommodate Twin Beds. When dealing with limited space, bunk beds become the ideal option. These are also an excellent addition if you intend to host families with children. Unfortunately, no products were found.
On the other hand, Queen Bunk Beds require a larger space. If you're dealing with a spacious room, queen bunk beds could offer more comfortable sleeping arrangements for your guests, particularly adults.
2. Tent House
Setting up air mattresses inside tents in your backyard is an inventive approach to sleep arrangements. This could be an exciting choice for both kids and adults. Remember, though, that for children, parental permission is necessary and securing the area from wildlife and other outdoor threats is crucial.
In addition, supplying lights and other useful accessories such as portable lanterns is recommended for the convenience of your guests. Providing sleeping bags and other essential items that guests can bring into the tents would contribute to a good night's sleep.
Dome Tents are a popular choice available in the market. Although they traditionally have a small porch area, recent designs have enhanced their space. 
Dome tents come in various sizes, but it's generally advised to accommodate a maximum of 4 guests for ease of setup and to minimize purchase costs.
Unfortunately, no products were found.
Tunnel Tents are ideal for larger families or groups, offering ample headroom and living space. They also tend to be more resilient to inclement weather than dome tents. Unfortunately, no products were found.
Cabin Tents are typically designed with waterproof polyester, a canvas rainfly, and nylon top covers. Constructed with interconnecting aluminum poles, they offer a cabin-like atmosphere. 
These tents usually feature divided rooms, allowing you to segment parties into smaller groups, or designate one area for gear storage and the other for sleeping quarters.
3. Air Mattress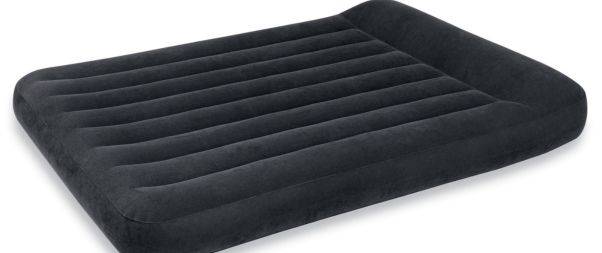 Offering an air mattress that simply rests on the floor is a clever solution for accommodating extra guests. It's swift and straightforward to set up and offers additional sleeping space. The mattress can be deflated and easily stored away during the day, keeping your space uncluttered.
A Raised Air Mattress, which is usually over 10 inches thick, can provide superior support for sleepers. This could be a preferable option for older guests as it's elevated enough to resemble a regular mattress. 
Self-inflating mattresses, which inflate and deflate at the push of a button, don't require manual pumping. These mattresses are equipped with internal pumps, making them easy to set up, albeit at a higher price point.
4. Murphy Beds
Twin Murphy beds make for an engaging and inventive sleep solution. Opt for horizontal variants that slide into the wall instead of the traditional style. When unfolded, they resemble bunk beds, yet they can be neatly tucked away when not needed. 
Although Murphy beds often get a bad rap for their subpar mattresses, you can enhance your guests' comfort with high-quality options that also free up space when stowed.
A Chest Cabinet Bed features a foldable mattress that is stored in a cabinet or cupboard, providing a departure from the traditional Murphy bed that stows a whole mattress into the wall. These beds are compact, taking up less room and blending seamlessly into your home's furnishings.
Horizontal Murphy beds function much like their vertical counterparts, but they are mounted sideways on the wall. These are ideal for smaller rooms and provide easier access.
5. Sleeper Sofas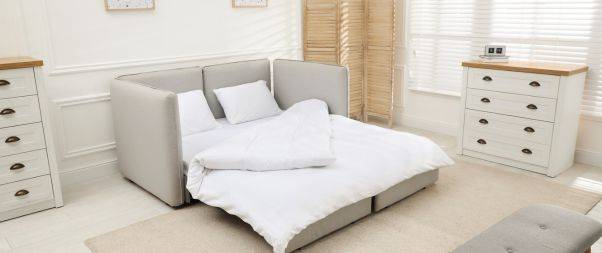 Spacious master bedrooms provide ample room to accommodate a sleeper sofa, which can effectively replace a reading table or an armchair. Your sleeper sofa should be comfortable enough to host an adult, but it can also serve as a bed for children traveling with their parents. 
Depending on the size of the sleeper sofas, you might consider placing them throughout your Airbnb property to facilitate larger groups.
Sofa Beds are designed as transformable piece of furniture that can be folded down into a bed without the need to remove cushions or add an extra mattress. This type of bed is practical and helps save space.
Pull-Out Couches, on the other hand, contain a full mattress within. The bed is revealed by flipping a handle. However, it's worth noting that they tend to occupy more space than other options available in the market.
6. Chair Beds
Embodying the same principles as sofa beds, chair beds present a versatile solution that can blend seamlessly with the interior decor of your Airbnb. Plus, their portability makes it easy to move them around the living room, and multiple chair beds can be used as needed.
An Armchair Bed, designed for individual use, offers supreme comfort and relaxation. It includes an extendable footrest, which taller guests are sure to appreciate. The convenience of lounging while watching TV may be the perfect fit for certain guests. 
Furthermore, when in the ottoman position, it can blend inconspicuously with other furnishings, offering additional functionality.
In Conclusion
Airbnb hosts regularly detail their sleeping options, and guests appreciate the flexibility of sharing a bed or having some private space. As a backpacker, when your journey takes you to bustling cities rather than the comfort of your bedroom, you'd probably settle for a less-than-ideal couch or an unfamiliar floor. 
However, with the diverse sleeping arrangements we've discussed, your Airbnb can offer a touch of luxury without breaking the bank.
You may also like:
Essential Guidelines for Requesting Reviews from Airbnb Guests
Optimal Maintenance Routine for Airbnb Properties to Minimize Unavailability